How To Send Email In Collect!
The Email feature allows you to send emails directly from Collect!.
* Send emails when you are on the Client or Debtor or Operator screen.
* Send emails to additional recipients.
* Send attachments with your email.
* Print letters directly to email addresses.
* Send reports directly to email addresses.
* Save email drafts and complete them later.
* Send details or notes to an operator by email.

Requirements
You must be set up to send and receive email through an Email program.

Sending Email From The Debtor Form
1. Sign into Collect! as you would normally.

2. Pull down the Browse menu and choose All Debtors.

3. When the list of debtors is displayed, choose one to open.

4. Locate the Email field and click the small icon located to the right of the end of the field.


Email Icon

This will open the Send Mail window from where you can compose and send your email directly to a Debtor.

If you have entered an email address for this Debtor, it will automatically display when the Send Mail window opens.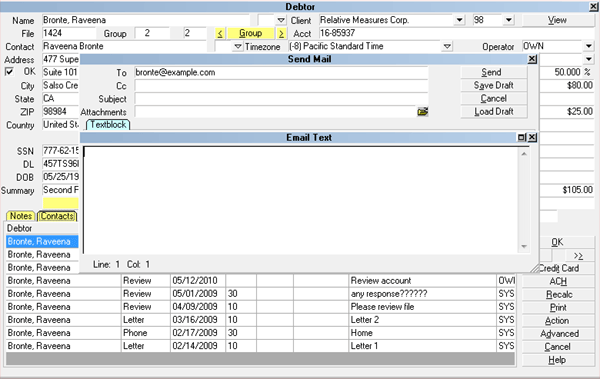 Email Window

Composing Your Email
When the Send Mail window is displayed, compose your email as you would in your other regular email program, such as Thunderbird or Outlook.
If you need more information about any of the fields on this screen, place your mouse into the field of inquiry and press F1 to be taken to online Help.

Sending To Multiple Recipients
To send to multiple recipients, simply use a space, comma or semi-colon between each email address you enter in the field labeled Cc in the Send Mail screen.

WARNING: If you are a current version user of Outlook, changes to their protocols interferes with multiple recipient sending in Collect! Contact Technical Services for information on workaround solutions if you have volume emails with multiple email recipients.
For an occasional email that must be sent to multiple recipients and you are a current version Outlook user, we recommend using Outlook directly for the intermittent, limited need.

Emailing Attachments
To email attachments, Collect! needs the complete path to the file entered in the Attachments field. You can enter multiple attachments, separated by semicolons.

If the attachment cannot be found by the name and/or path you have indicated, the Collect! does not send the email.
To easily attach files, select the file folder icon at the right end of the Attachments field in the Email window and chose 1 or more attachments to include. Collect! will automatically enter the complete path to the files you have chosen and they will be sent with your email.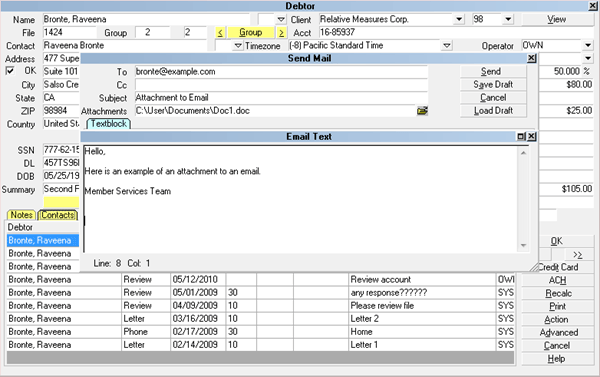 Attaching a File to an Email

Sending Your Email
Make sure your email has text entered in the Subject line as well as the body of the email. However brief, something must be in both areas or else the email will be filtered and not sent, believed to be blank and not a real email.
Click the Send button to send your completed email. If you open your email program, you should see that the email is now displayed in the Sent Items list.

Printing Directly To Email
When you are on a Debtor file, click Print. Choose a letter or report to send to this Debtor. When the Print Report window is displayed, choose 'Email' as your choice for output. When you click the Print button, the system will generate the letter or report and send it to the Debtor's Email address that is present on the debtor screen. The document is written into the body of YOUR email to the debtor. If the document has specialized columns to print in alignment to paper and the output looks skewed or misaligned when sent by email, then this is a letter or report that needs to be recoded in HTML format as your email program is stripping out the text commands that are embedded in the document stored in Collect!. Contact Technical Services to obtain pricing for HTML versions of letters/reports.
If no email address is present on the debtor screen, the system will prompt you with a popup asking you to enter the recipient email address. Once you click Print to send it. You should see the email in the Sent Items list of your email program.
By default, Collect! will use the name of the report or letter you are printing as the email's Subject. You can modify this by using the report writer @SUBJECT command in your report or letter. Please refer to Help topic, How To Add a Subject When Printing to Email for details.
If you can print to email successfully from a single debtor, you can also print the letter or report in your letter batch. You can print an entire batch of Letter contacts to email by specifying 'Email' as your output choice in the Print Report window.

Letters and Reports which can be successfully emailed out of Collect! must "Start On" either Debtor, Client or Operator because these file types have email address fields associated with the record. Reports or letters that "Start On" "*" meaning "Anywhere" cannot be used for emails. Collect! has no reference file from which to get its email address information.

SMS To Email
SMS (Short Message Service) is available on most digital mobile phones that permit the sending of short messages. When sending emails in Collect!, you can set up your system to transmit messages to a specific phone number for a Client, Debtor or Cosigner using the SMS Email feature. You can send meeting reminders, payment notifications, and status reports to Clients, Debtors or Cosigners as text messages. See the Help topic, SMS Email Setup for details.

Save Draft
Click the 'Save Draft' button to save your email. This will save it so that you can finish it later. An email saved in this way is posted to your WIP list. Choosing the item in the To Do List, opens the Send Mail window so you can resume composing, then send out your email.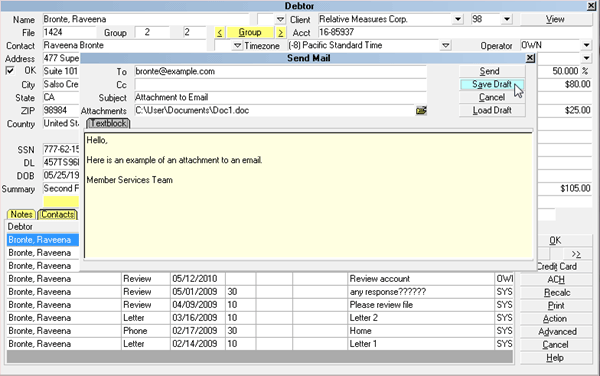 Save Email Draft

Additional recipients and Attachments are not retained when you save a draft. These would have to be re-entered when the draft is revisited.

Emails Displayed In The WIP List

The Email switch in your Reload WIP Filters setup screen must be checked ON if you wish draft emails and interoffice emails through Collect! to show up in a WIP list.
If you Reload your WIP and do not see Email Contact types displayed, the steps to remedy are as follows:
1. From the Main Menu, click the Work In Progress button to get to the WIP screen. Click the Reload button in the upper right of the screen.

2. The Reload Work In Progress List will be displayed. If you are making this change for an individual user, make sure their ID is displayed in the "Load Contacts for Operators" field. If you are making this change for all users, make sure the Operator field is blank. Click the WIP Filters button on the left of the screen, the topmost button in that bank of buttons.

3. The WIP Reload Filters window will open. Check the box beside "Email" to switch ON the ability to see Email contacts in your WIP list.

4. Click OK on all screens until you are at the Work In Progress window again. Either all WIPs or the user IDs you have enabled it for, should reload with emails displayed. Save these settings as default go forward by clicking the "Save as Default" button on the "Reload Work In Progress List" screen.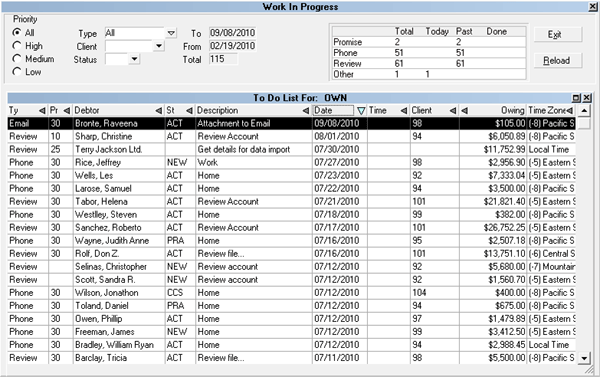 WIP List with Email Contacts
When you choose an Email Contact from a WIP list, the Send Mail window will be displayed for that email event.

Load Draft
Email drafts previously uncompleted can be reopened, worked on and sent. Once you have accessed the account with the draft email contact, you have 2 ways to to reopen your saved draft.
1. From your WIP list, click Reload, then click the WIP Filters button. Either include Email contacts by checking the box beside the Email Type, or deselecting all other types of Contact and checking only Email. Click OK to close WIP Filters, then OK on the Reload Work In Progress screen.
If you selected other contact types along with Email, you can sort your WIP by "Ty" (for Type) by clicking into the Type column in your WIP and sorting the list in ascending or descending alphabetic order.
Find the debtor with the Email contact and click on it to select it. Once the screen is open, your Email contact will be in the yellow highlighted bar just above the Tabs on the debtor screen. If you click on that bar in the same manner as you would for any other type of contact, the Draft Email will open for you directly so that you can complete your content and send.
2. After accessing the debtor account from your WIP using the same method to load Email contacts as in #1 above, you can click on the email icon on the Debtor screen which will open a new, blank email window. Click the "Load Draft" button.
If you have only 1 email contact for this debtor, the draft will open directly.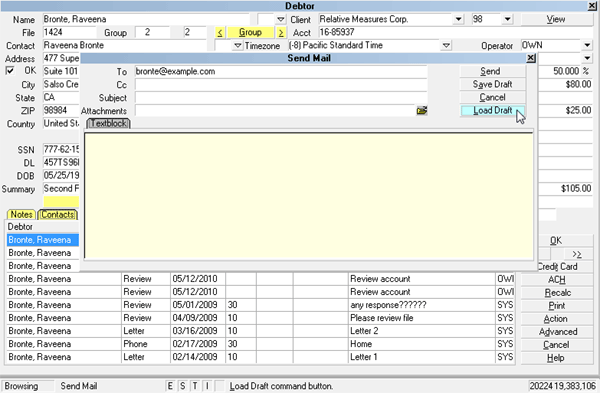 Load Email Draft
If you have multiple Email Contacts for the 1 debtor account, you will get a list popup containing all drafts that have a next work date which is due up to and including the current date. You may select from the list which of the drafts you want to complete and send by clicking on it from the list popup.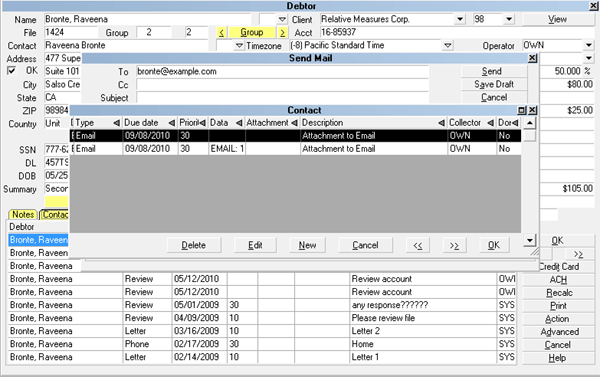 Emails Saved as Drafts

Sending Email From The Client Screen
Email can be sent from the Client screen the same way as from a debtor screen, by clicking on the icon beside the email field, inputting your recipient (if not already present), Subject line and the text body of your correspondence.
From a Client, an email must be composed and sent in one step. The email window that will display from a client screen does not contain a "Save Draft" or "Load Draft" button. If you encounter an occasion where you cannot complete your email to a client and don't want to have to start all over again later, copy/ paste your draft text somewhere where you can retrieve the content later. If you have sufficient access rights for Client Notes, you can store partial text in the client Note tab to copy/paste back into an email window when you are choose to complete your email draft. If you have Read Only access rights on the Client Note Tab, you can save your partial email body to a text file in MS Notepad or in your preferred word processor program, to be picked up later for copy-back into a Client email from Collect!.

Sending Email From The Operator Screen
Email can be sent from the Operator screen the same way as from a Client screen. The Operator email window does not have the "Save Draft" or "Load Draft" buttons.

See Also
- How To Setup Sending Email In Collect!
- Print Batch Email in Scheduler