User's Guide - Office Administration/Clerical
This is a reference guide for administrative staff.
Main Menu
After signing into Collect!, you will navigated to the Main Menu.
This screen shows you the areas of access. You have Search fields in the lower right corner, Menu buttons on the left and Drop-down Menus across the top of the screen. The reason why there is some overlap in navigation paths through the system is because it allows different user levels unique paths to areas they are permitted to access as well as accommodate users who favor one access path over another.
The following is a brief description of the visible options offered on the Main Menu.
QUICK SEARCH is 6 lookup fields where you can search for debtor accounts by the most common lookups; file number, ( client) account number, name, DOB, phone and email. The Name search will also look for any cosigner or associated party names which you may store in Cosigner windows of any Class description.

WORK IN PROGRESS navigates you to the WIP lists in the system. For non-collection personnel, this is the access point for all WIP lists. Reloading and selecting the Operator ID of choice will display that ID's working accounts and desk counts.

DAILY ADMINISTRATION navigates you to all data entry and batch processing.

MONTH END navigates you through the options to generate client remittance statements/ invoices and checks, and associated summary reports.

SYSTEM ADMINISTRATION accesses system configuration and database maintenance menus.

REPORTS provides access to all reports - those internal to the Collect! program (hardcoded) as well as your company's library of external and custom reports/letters. The source code for external reports and custom letters/reports is contained in the document body of each, as stored in your Report library.

TUTORIALS takes you to our website for a demonstration of basic functions and features.

QUIT exits the program.
The following are brief descriptions of feature usage. For detailed instructions, see the link(s) trailing each topic.

Daily Administration
Click the Daily Administration menu button to access the sub-menus.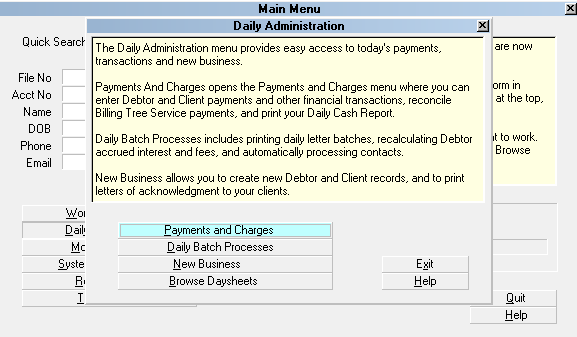 Daily Administration Menu
PAYMENTS AND CHARGES takes you to a transaction entry area where you can apply payments/ charges to debtor accounts and post payments from clients.

These tasks may also be performed directly from a debtor or client screen.

DAILY BATCH PROCESSES is the sub-menu set from where you may print letters, perform batch functions such as account grouping or assign accounts to collector desks, or recalculate all financial totals in the database for debtors/clients/ daysheets.

NEW BUSINESS is where you can enter new Client and Debtor records.

These tasks may also be performed directly from a Browse Debtor or Browse Client list. Additionally, you can enter new debtors from within the Client that the new accounts belong to. This saves keystrokes by auto-populating the client number and client name as you enter new debtors.

BROWSE DAYSHEETS lets you view summary information stored in Collect! that reflects the day's accomplishments on a per calendar day basis.

EXIT returns you to the Main Menu.

Introduction To Reports
Printing for daily and monthly activities is typically done using the options displayed in the menus.
There are 3 types of reports available in the system:
Internal Reports - This category defines reports which are hardcoded in the software itself and the source code is not available for modification. These are selected by name from a system menu other than the Print Menu list of reports/letters and are launched directly from that source. Examples are: Daily Cash Report, Month End Payables and Receivables, Month Batch Analysis
External Reports - These are documents for which the report code is stored in the Print Menu list and these are possible to modify for individual site needs. They are launched by clicking into the Print menu and selecting by name from the available reports/letters stored in your print library of documents. Examples are: letters, statements, activity, commission and transaction summaries
Quick Print Reports - These are the equivalent of ad hoc queries where you may select the data set by first Browsing into a list of the items interest (i.e. Debtors, Clients, Transactions) and tagging them as a list. Requesting a Quick Print of these records with All details or abbreviated output allows you to export data into a csv spreadsheet where you may perform data manipulations to meet your office's needs. Examples are: a listing of all postings within a prescribed date range that were applied with a specific Transaction Type (i.e. Court Costs or Fees), create a list of debtors with specific balance and list date range with a particular status code

Print Menu
The Print menu provides access to all the reporting functions in the system.
Quick Print will output All or abbreviated data pertaining to an individual screen or list of records currently displayed on your screen.
This option accesses modifiable reports and letters stored in in your print library.
This option navigates you to a list of frequently used, standard internal reports and tasks.
Letter Service Bureau
If your office is utilizing a letter service mailhouse to generate and send your debtor letters, this option will generate the daily letter file that you will send to your provider.

Scheduled Batch Letters
Navigates you to the sub-menus from where you may launch your letter batches for printing in your office. This is the same sub-menu that can be reached from the Daily Administration button on the Main Menu.

Client Acknowledgements
Generates a standard client new listing acknowledgement for all clients who have assigned new accounts in the date range selected. This report is also available as an external type which may be modified for verbiage/content.

Daily Cash Report
Prints a summary of the day's financial transactions including the bank deposit amount.

New Business Report
Outputs the new listings and totals for the selected date range.

Work Cards
Outputs the equivalent of a debtor screenprint with additional details included.
This option navigates you to the selection of monthend related reports and tasks.
Generate Statements
Creates client invoices/statements and checks for the collection period date range specified. This is the same sub-menu that is accessible through the Month End button on the Main Menu.

Statements
Prints the most currently created statements/invoices.

Checks
Prints the most currently created checks.

Client Status Reports
This is the equivalent of a debtor inventory report which prints for each Client.

Payables
Outputs a summary of all clients for whom a trust check was issued in the collection period specified. It is the equivalent of a check register to simplify your entry into your general accounting software outside of Collect!.

Receivables
Outputs a list of clients who have a balance owing to your company. Details are displayed with Current/30/60/Over 90 day aging. The report is selectable by user defined date range.

Operator Commissions
Outputs a summary of the collector commissions recovered in the selected date range. Note: only transactions with a commission amount (either positive or negative) are included. This means that any payments or portions of payments which were posted with zero commission will not be included in the amounts output on this report.
This option navigates you to a list of summary and analysis reports.
Month Batch Analysis
Provides client recovery statistics on a month by month basis, scanning back up to 2 years.

Transaction Analysis
Output layout of this report is the same report as the Operator Commissions report above-captioned. The distinguishing difference is that this version includes zero commission transactions, including Adjustments.

Client Analysis
Generates a summary performance analysis report by client on your selected date range, summarizing new business, debtor payments, liquidation percentage, cost factor, number of payments and number of new accounts on a monthly and year to date basis.

Total Listed
Generates a historical totals summary of all accounts placed with your office up to the report run date. It does not detail by client.

Transaction Summary
Outputs paid agency and paid client totals within the requested date range. It does not detail by client.
This option navigates you to the reports which pertain to trust account balancing.
Trust Summary Report
Outputs on a selected date range and details paid agency, NSF to agency and client remittance checks issued, arriving at a closing trust activity balance for the requested period.

Client Trust Report
This report must be launched from an individual client screen. It outputs a summary of all credits and debits associated with the Client, along with a breakdown of payments and charges.
This option allows you to select an externally created template to use for your report layout. Data from your Collect! database is used to auto-populate designated merge fields. Please refer to the Help topic Merge Documents for more detailed usage instructions.
This option navigates you into the Print Menu in an Edit mode where you may select an item from the reports/letters library for modification or create a new letter or report.

Printing A Report
When you choose a report to print, you may receive a prompt pop-up asking you to enter specific criteria of interest if applicable, or if there are no parameters to be entered, you will be advanced to the Print pop-up to complete the output of your report.
From the Print pop-up, you can select your device or output type. Examples: default or selected printer, spreadsheet, file, email, browser, fax or other.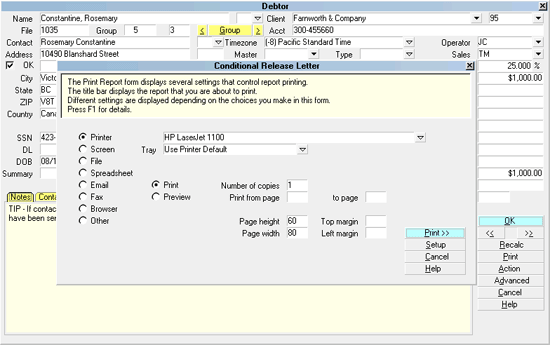 Print Report Screen
Clicking the Print>> button will execute your request as per your selections in this window.

Report Destinations
PRINTER
Typically you send reports to a printer. You can select from the list of printers installed on your PC.
Printer
This field displays the default printer. It may contain a pick list that you can select from.

Tray
If your printer supports printing to different trays, you can select a tray in this field. This is used with the @TRAY command in the report writer.

Print
This selection prints directly to the printer.

Preview
This selection opens a Print Preview so that you can preview your letter or report before sending it to the printer.
SCREEN
You can send the report to the Screen. This allows you to quickly review the report. Control codes embedded in the document will display in this view. Use Preview instead if you wish to see a representative example of what the output will look like when you send it to the printer.
This option is useful when you are executing a process that requires a real-time run in order to complete contact events but where you do not wish to generate actual paper output. Preview does not mimic an actual execution and thus will not mark contacts done where such is the objective.
FILE
Outputs to a file in the format you specify, with the name you select and writes to the path destination of your choice. File extensions should be .htm, .txt or .csv. After clicking the radio button beside File, click the Browse button to navigate to your file output destination and give the report a name and file extension type.
SPREADSHEET
Choose this option to output a csv file to a spreadsheet which you can open with your preferred program (i.e. Excel, Open Office, UltraEdit, Notepad). Your file name and destination are selected in the same manner as with File above, by clicking Browse. Use file name extension .csv so that you are able to open it in your program of choice.
EMAIL
Choose this option to print the report as an Email. The report will automatically be sent through your Email program to the address in the Debtor's or Client's Email field.

Emailing through Collect! requires configuration prior to usage. See your Systems Administrator to find out if your office has been set up for email usage.
FAX
Choose this option to print the report as a Fax. The report will automatically be sent through your Fax modem to the phone number you choose in the Fax # field.
BROWSER
This selection will print the report to an html document which can be previewed and/or printed from your default web browser.
OTHER
Choose this option to print the report to an alternate word processor, such as WordPad or Word.

Other Print Options
Other print options allow you to specify page size and margins, and also which pages of the report you want to print.
Number of Copies
Enter the number of copies you want to print. It is prefilled with the default 1 copy. No change is required if this is your selection.

Print From Page
This setting specifies the starting page number of the report. If the report is 20 pages long and you want to start printing on the 10th page, enter 10 in this field. This field is blank by default.

To Page
This specifies the ending page number of the report. If the report is 20 pages long and you only want to print the first 5 pages, type 5 in this field. This field is blank by default.

Page Height
The page height lets you specify the number of lines that will be printed on each page before the form feed function advances to the next page. It is defaulted to the correct number for a standard, portrait orientation page output.

Page Width
This will determine where printed lines wrap automatically. This is especially important for the Quick Print option. 66 is a standard width. It is defaulted to the correct number for a standard, portrait orientation page output.

Top Margin
This specifies the number of blank lines printed at the top of each page. It is blank by default. Most letters/reports contain individual document format codes as part of the source they are written with. It is not necessary to place an entry in this field.

Left Margin
This specifies the number of spaces left blank on the left side of each page. Most letters/reports contain individual document format codes as part of the source they are written with. It is not necessary to place an entry in this field.

Canceling A Report
You can back out of the print process by selecting the Cancel button on the Print Report pop-up or by pressing any key if the print job is in progress.
The program will pause and ask if the report should be cancelled.
YES - Stops printing the report.

NO - Continues printing the report.
MAILING LABELS

Mailing labels can be printed for debtors and clients. Before printing your daily reports, you will be asked to choose to print either the letters or mailing labels. Please be sure you have the appropriate paper in the printer. If you have a separate printer for labels, you will be able to select that printer before the printing begins.

Order of operations is to print Mailing Labels before batch letters so that your obtain your labels before the process of the actual letters completes the letter contact event.
You can modify the label format by using the Print menu, Customize Printing, Edit Report Templates option. For Debtor labels, the report is named Debtor Mailing Label. For the clients, the report is named Client Mailing Label.

See Also
- Data Entry Topics


- Letter Printing Topics
- Report Sample
- Accounting Topics
- Batch Processing Topics
- Contact Plan Topics
- Topics Collections