Discover The Benefits Of Proven Affordable Collection Software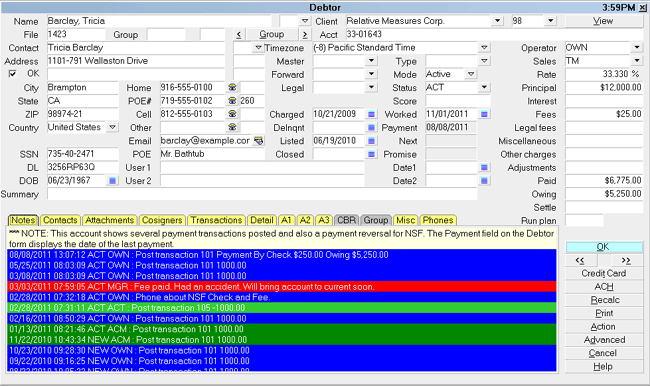 Collect! Debtor Screen
Collect! for Credit and Collection automates and streamlines collections, administration and accounting functions for collection and credit management. Eliminate errors, save time and manage your business more effectively with affordable software designed specifically for your industry. Instantly have vital information at your fingertips with less than one second access with thousands of accounts! A high performance, modern design gives you the features and results you need without the huge investment of other systems.

To view a demonstration of the basic features and functions in Collect! that you will use every day, select the TUTORIALS button on the Main Menu.
Collectors profit and grow with automation. Until now, few affordable alternatives existed, but Collect! from Comtech Systems Inc., offers a guaranteed solution for small and medium sized companies.
Collect! combines effective management of information and resources to improve your business performance. Full-featured with functions that give you the power to reach your full potential, Collect! provides an affordable path that's sure to make your business grow. The system features incredible ease of use with total integration of functions. Recording a debtor's payment for example, deducts from the debtor's total owing and the client's owing, adds to the client's total paid, and credits the agency with the transaction, commission and taxes.
Collect! saves time with automatic letters, calculations and a high performance database to instantly give you the information needed. Why waste more time when you can automate economically now? Start improving your fiscal health today.
The Collect! system is premium software, combining the latest in technological design and ease of use. Ideally suited for small to medium sized agencies, it performs flawlessly within the most demanding agency situations. If you need an extremely powerful, yet affordable, system that is simple to use, look no further than Collect!
Introduction
The Collect! software was designed to meet the needs of small to medium sized collection agencies. Collect! is a COMPLETE solution, capable of handling debtor transactions, the complexities of client invoicing and trust management, contact schedules, batch processing, daily and month end accounting, and reporting -- all with the same speed and efficiency.

Features
The system features incredible ease of use with total integration of functions. Your accounts are efficiently tracked from the time you receive them until activity is concluded and they are closed. Unlimited date, time, status and operator stamped notes, with at-a-glance information on transactions, notices, contacts, commissions and fees, instantly give you the details you need. A variety of payment methods can be selected, and scheduled prioritized contacts make it easy to know which accounts need attention. Collect! keeps track of critical information automatically. Reports are available instantly with just a few mouse clicks. You can also manage pre-collects with automatic notice scheduling and fee processing. Best of all, Collect! is cost effective.
Complete client information is maintained by Collect! This includes up-to-the-minute client debtor histories listing every debtor assigned to a client, all related transactions, commissions, status, invoice and payment history, rate structures, contacts, notes, trust account summaries, and more. An excellent audit trail can be viewed or printed until you remove it.
Collect! provides complete tracking of accounting information, including daily transaction and payment registers and bank deposit summaries, new business reports, and automated client acknowledgments. Total integration provides for seamless and accurate month end invoices and statements with 30/60/90 day histories.
Collect! is complete with program icons, popup menus, hyper-linked online help, mouse support, scroll bars, buttons and search lists. You may change field labels to make your use of the system more intuitive. Add pick lists on any field to drastically reduce data entry errors and save time on the tedious task of repetitive information logging. Template-driven mechanisms offer huge flexibility. Collect! is almost like creating your own software only better, because we understand what will benefit your business!

Reports
Reporting is an important part of business success. Collect! generates relevant, easy to read reports using a variety of subjects, bases and criteria. Reports can be sent to the screen, email, a spreadsheet, html file, the printer or a text file. A custom report writer system is a standard feature. There are many samples in the system and on our web site that may be customized to suit your needs. Up-to-the-minute accounting information is displayed however you want it. Create a very sophisticated, comprehensive look for your clients.
In addition to accounts receivable, account aging and billing statements, the system also reports on client and debtor trust account balances, debtor account history, collector and corporate commissions, daily banking and business information, and displays a collection % success rate.

Letters
Letter series -- so important in your industry -- are a powerful feature of Collect!. A variety of letters, notices and acknowledgments can be printed, according to your own strategies. Use graphic images such as your corporate logo, or add NSF check images. Many samples are available in the system and on our web site. You can create your own letters and notices, or change existing samples to suit your business style.

Printing
Use powerful print to spreadsheet, file and html functionality in addition to standard printer access. Print any report or letter to screen to modify on the fly, create ad hoc communications and reports, or display on your web site for clients.

Options
We offer Auto Dialer, Credit Bureau Reporting, Letter Service Outsourcing, Predictive Dialer Link, Data Import/Export, and Web Based Data Entry, Account and Report Access. You choose the options to meet your needs.

Collect! Standard Reports
Daily Activities:
New Business Report * Client Payment Report * Bank Deposit Report * Client Acknowledgments * Debtor Notices * Debtor Contacts * Collector Activity * Account Assignment * Account Matching * Payment Plans
Batch Processing Clients:
Client Payment History * Client Alphabetically * Client Debtor Summary * Billing Statements * Full Client Listing * Reprint Invoices * Invoice Log * Acknowledgment Letters * Client Summary * Trust Report * Client Recovery * Client Status * Detailed Status Reports
Debtors:
Debtor Summary * Debtor Payment History * Debtor Notes * Debtor Contact Schedules * Debtor Notices * Letters * Debtor Detail Report * Trust Report * Receipts * Status Reports

Visit Our Web Site
We have one of the most comprehensive web sites in the industry. Everything you need to know about Collect! is there, including a downloadable FREE demo and extensive online Help on every topic you can imagine for this program. The web site is continuously updated with new information, new scenarios and how to's, custom business solutions, and ideas for using Collect! to increase your business efficiency.
Read testimonials from Collect! users, learn about the benefits of using Collect!, check out our product guarantee, and find other relevant industry links. You'll enjoy discovering how proven collection software can provide positive results for you and your business.