Password Settings Basics
The Password Settings form contains Security settings for operators and their passwords. This allows you to strengthen your system security with more control over who may access your system. You may establish a number of days after which the user must change their password, the number of wrong password attempts the system will accept before locking the user out, and the number and type of characters the system will accept for a password. Passwords are encrypted for added security.
This can be completely ignored if your needs do not require this kind of security.
For the larger companies, this is almost a must to satisfy your clients' need for tightened security.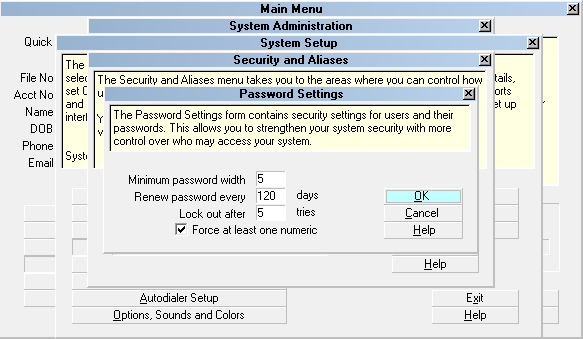 Password Settings Window
Accessing Password Settings
The Password Settings form may be accessed in two ways. Providing you have access to the various menus and forms, you may gain access to the Password Settings form.
1. Using the menu bar at the top of Collect!, select System to display the drop-down menu. Select Rights from the drop-down choices and then select Password Settings from the side menu to display the Password Settings form.

OR

2. From the Main Menu, select the SYSTEM ADMINISTRATION button to display the System Administration form. Select the SETUP AND CONFIGURATION button to display the System Setup form. Select the SECURITY AND ALIASES button to display the Security and Aliases form. Select the PASSWORD SETTINGS button to display the Password Settings form.

See Also