Password Settings
The Password Settings form contains security settings for users and their passwords. This allows you to strengthen your system security with more control over who may access your system.
You can establish a number of days after which the user must change their password, the number of incorrect password attempts the system will accept before locking the user out, and the number and type of characters the system will accept for a password. Passwords are encrypted for added security.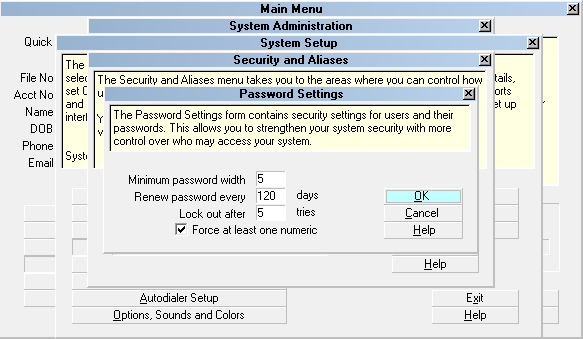 Password Settings Window

Please refer to Password Settings Basics for steps to access this form.
Minimum Password Width
Enter the minimum number of characters the user must enter for their password. If they enter less than this number of characters when renewing their password, the system will warn them and will not accept the password until it is at least this number of characters. Leave this field blank to allow operation with no passwords.

Force At Least One Numeric
Switch this ON with a check mark and the system will make sure the user has entered at least one number in their password.

Renew Password Every
Enter a number of days. After this time the user is prompted to renew their password. Leave this blank if you want the system to never prompt to renew passwords.

Lock Out After
Enter a number of attempted signons here. If a user enters an invalid password the system keeps track of this. After they have exceeded this number of bad attempts to sign on, the user is locked out. Then a system administrator is required to unlock the user's account through the Operator screen.

See Also
- Password Settings Basics - Introduction/Accessing