How To Export Your CV10 Database
In this procedure, we will export a CV10 database. This procedure exports all data in the database to ASCII text files. The data can then be processed as you require. Database export is the first step for upgrading your existing CV10 database to CV11.

If exporting fails on your particular Collect! version, please apply a patch to bring it up to the latest CV10. This will ensure a successful export. Please request assistance from Collect! Technical Services, if needed.
The steps for exporting your database are as follows:
Prepare your database
- Convert Credit Bureau Reporting to Metro 2 (if you not
reporting in Metro 2 already.) Please see the section in this document labeled "Convert to Metro 2."
- Recalc your database and run a thorough maintenance.
- Back up your database to a safe location.




Shut down CV10 Server
- Ensure that all users are out of CV10.
- Shut down the CV10 Server.
- Reboot your server to make sure all active users are disconnected.




Export your database
- Start up CV10 Server again.
- Sign into Collect! in Exclusive mode.
- Select Export Database from the File menu.


This procedure can take a long time depending on the size of your database. The best time to perform this operation is after hours, when exclusive access to your CV10 database is practical. If you are unsure of any part of the procedure, please do not proceed without getting help.
The steps for exporting your database are explained in detail in the remainder of this document.
Prepare Your Database
To prepare your database for exporting, a thorough maintenance and RECALC must be performed on your database before you export it. If you intend to upgrade into CV11, RECALC and export must be done on the same day that you intend to upgrade.
Although this procedure does not touch your original installation at all, it is advisable that you have backed up your existing database and have saved it to a secure location, as a precaution.
Please refer to Preparing To Upgrade Your Database for details.

Shut Down CV10 Server
Collect! cannot export your database while users have Collect! files opened. Before you export your database, you must ensure that all users are out of CV10. Then shut down the CV10 Server. Make sure that all active users are disconnected from your Server and then reboot the Server.

Export Your Database

This process may take several hours if you have a very large database. It is imperative that the process is allowed to complete without interruption. Please plan accordingly.
1. Start the CV10 Server. When your Server is up again, sign into Collect! in Exclusive mode and stop at the Main Menu.
2. Select File from the top menu bar and then select Import/Export from the drop-down choices. Another submenu will display. Select Export Database.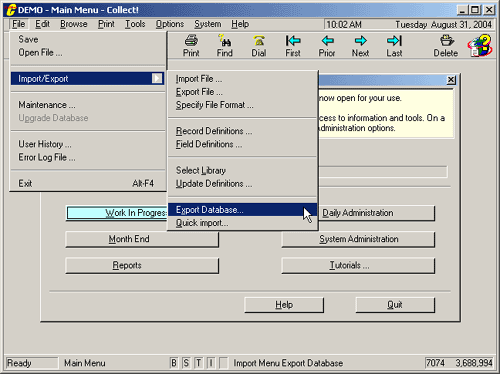 Selecting Export Database
A message will appear confirming your choice.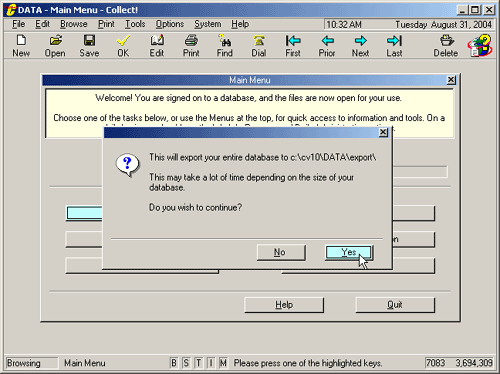 Export Database Message
Select YES to begin the exporting process.
3. Additional prompts will be displayed now to confirm exporting each part of your database. We are going to export the entire database. So select YES in answer to each of the prompts.
4. After you have replied to the prompts confirming the export of each part of your database, Collect! asks if you are ready to proceed with the export.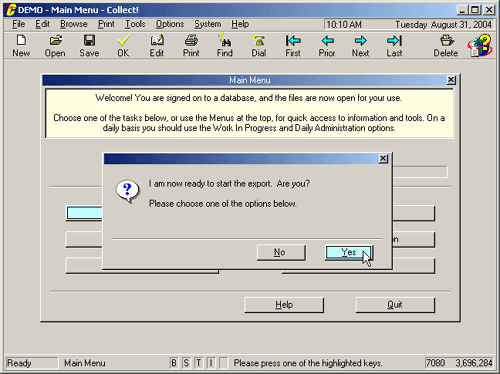 Are You Ready To Start?
Select YES and Collect! will begin the export.
5. As the export proceeds, the screen displays information about the files that Collect! is creating for each part of the database. Each Collect! database has 5 component databases - report, rates, nxuser, impex, and collect. We are exporting each component entirely.
Please allow this process to complete without interruption.
6. When the export is completed, Collect! will display statistics. The example database, with about 140 debtors, has approximately 26,000 records. This includes everything - clients, debtors, cosigners, contacts, attachments, transactions, and invoices.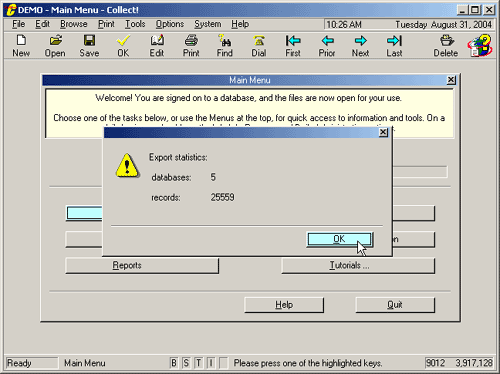 Export Statistics
Select OK. Then, Collect! will display the Start Time and End Time for the export process. In the example, the export started at 10:16:44 and finished at 10:26:41.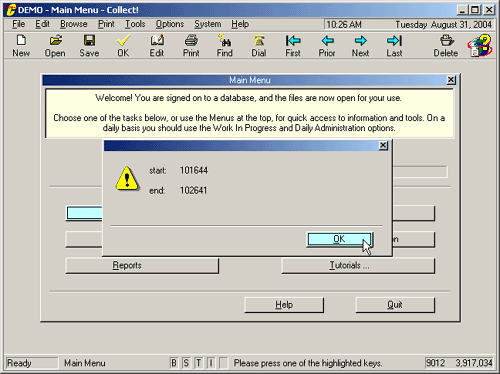 Export Start and End Times
This was a very small sample database with 9 clients and 140 debtors. A database with 75 clients and 45,000 debtors may take, at the very least, an hour to export.
7. As a result of the export, there is now an export subfolder in your DATA folder.

Export Folder in the Masterdb Folder
This folder contains many ASCII text files and import maps, as well as subfolders. There is an html folder, an impex folder and a separate folder for each client in your database.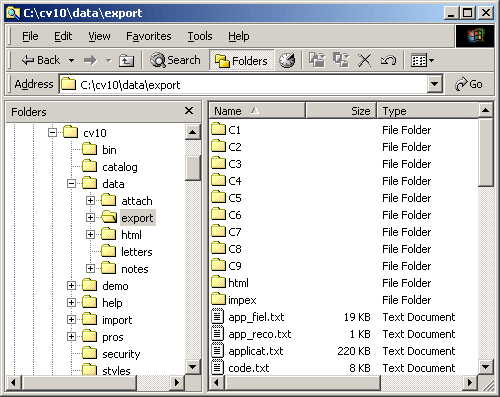 Subfolders in the Export Folder
Each folder contains several ASCII text files, one for each type of date that was exported, and several import maps. The contents of a client folder are displayed below.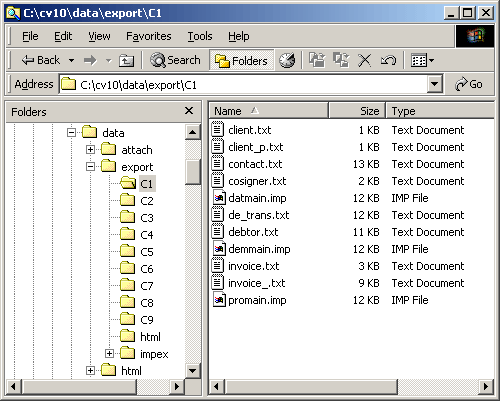 Files in the Export Client Folder
Each client folder contains several ASCII text files, one for each type of data that was exported, and three import maps. Similarly, the html and impex folder contain ASCII text files and import maps.

Exporting Multiple Databases
If you have more than one database to export in your CV10 directory, you can follow the steps above for each database. If you are upgrading, each additional database should be upgraded at the same time as your primary working database. Please ensure that each additional database is properly prepared beforehand as described in the Help topic Preparing To Upgrade Your Database.

Summary
This document walked you through exporting your properly prepared database to a set of ASCII text files.
Your entire database is contained in the files that you see in the export folder. If you intend to use this data to upgrade your database into a CV11, please refer to Upgrading Your Exported Database To A New Installation.

See Also
- Introduction To Upgrading
- Upgrading Topics