Database Maintenance
Database Maintenance presents you with several options for maintaining your CV11 database from within Collect!. By default, complete maintenance rebuilds and fixes all of Collect!'s individual databases.
We recommend you backup critical data files before running maintenance since, if the machine is failing, the maintenance, while manipulating data files, may cause undesirable consequences and, potentially, loss of data.

Please refer to Backup Database Topics for options for backing up your files.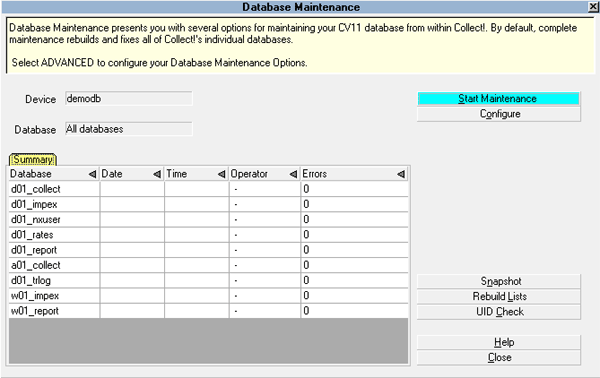 Database Maintenance
Select CONFIGURE to configure your Database Maintenance Options.
Please refer to How To Maintain Your Database for details and tips for performing database maintenance.
Device
This is the name of the database that you are about to maintain. This is the registered name of the database in the RDM Server.
Maintenance runs on the database you are signed into.

Database
This displays the individual Collect! database that you are repairing. By default, this field displays "All databases" and maintenance will repair all five databases contained in Collect! This setting may be modified by selecting the ADVANCED button.

Start Maintenance
Select this button to begin the maintenance procedure using the settings that are displayed.

Configure
Select this button to display the Database Maintenance Options form where you may view or modify the settings for the Database Maintenance procedure.

Snapshot
Select this button to snapshot your core database files. Please refer to Database Snapshot for details.

Rebuild Lists
Select this option to rebuild Collect!'s internal meta data tables. Import definitions, printable information and access rights lists are rebuilt.

This may take a bit of time, depending on your particular Collect! usage and the number of users you have. You may want to rebuild just one of these lists rather than all three. Please refer to Help topic Rebuild Lists for details.

UID Check
Select this option to quickly check the integrity of your database. You can select specific areas to check, or check all registered devices. The utility also fixes any errors that are encountered if it is run in EXCLUSIVE mode, otherwise, errors are simply reported.
Please refer to Help topic, UID Maintenance for further details.

Help
Select this button to view help on the Database Maintenance form and related topics.

Close
Select this button to close the Database Maintenance form and return to the previous form.

Summary
This table displays the Collect! Databases and gives the Date and Time maintenance was performed on each database. The ID of the Operator who ran maintenance is also displayed.
The Errors column lists the number of errors found and repaired.

See Also
- How To Maintain Your Database
- Database Maintenance Options
- UID Check