CV11 Admin Tool

This is an advanced topic and is intended for experienced IT personnel.
This document provides an introduction to the RDM Server Administrator, also called Admin or the CV11 Admin Tool. Using this graphical administration tool you can perform most system administration operations necessary for configuration, testing, and maintenance of RDM Server. You can also use the utility to modify rdmserver.ini and connect.ini configuration parameters, if needed. In this topic, we will outline some of the basic operations you can perform and link to other topics for in-depth explanations of some of the features.
RDM Server is administered through the RDM Server Administrator which provides an easy-to-use graphical interface for performing the following tasks.
Configuring the parameters of the rdmserver.ini file
Creating and managing database devices
Registering and managing databases
Creating user accounts and controlling access to databases
Configuring and managing server extension modules
Backing up a server
Shutting down a server
Running SQL queries
Accessing CV11 Admin Tool
From within Collect!
To access the CV11 Admin Tool from within Collect!, select System from the top menu bar and then select Network and Environment from the drop-down choices. Select Launch Database Admin Tool to open the RDM Server Administrator.
From Outside of Collect!
There are times when you will want to perform procedures when no one is using Collect!. To open the CV11 Admin Tool at these times, please follow the steps below.
1. To open the CV11 Admin tool from outside of the Collect! interface, first start your CV11 Server.
2. Then select the CV11 Admin option in your Server's Start Menu Collect! 11 Program folder.

Or
2. Navigate to your CV11\bin folder and double-click on the file named rdsadmin.exe.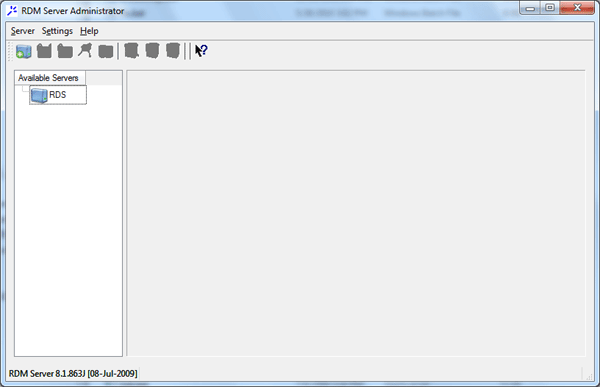 RDM Server Administrator

Available Servers
When the RDM Server Administrator window opens, it shows the Available Servers window. This reads the entries in the connect.ini file and displays them in a list. The name of your CV11 Server is "RDS" by default, as defined in the CV11\bin\connect.ini.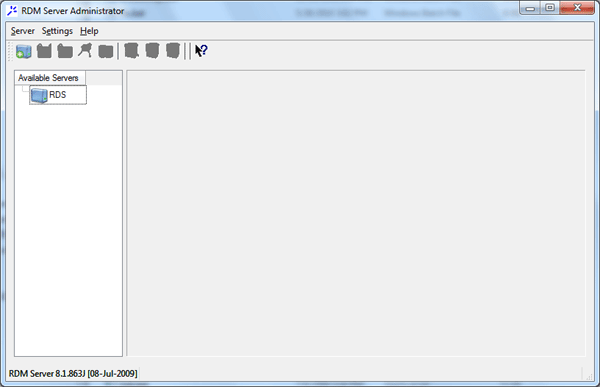 RDM Server Administrator
Before you actually log into the server, there is very little that you can do with the Admin tool. Most of the menu choices are greyed out.
To log into the CV11 Server, double-click the Server Name in the RDM Server servers window. This will open the Login to RDM Server prompt. Enter the username admin and the password secret and select the OK button.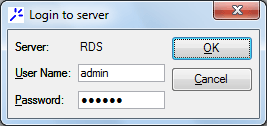 Login to RDM Server
You will be able to see and select from several choices that are now activated.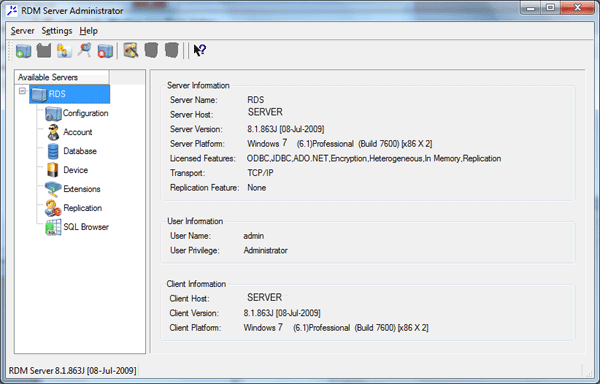 RDM Server Administrator Main Screen
Each one of the choices on the left hand side of this screen takes you to a different area of configuration and setup.
Configuration
Account
Database
Device
Extensions
Replication
SQL Browser

Configuration
This section displays all the settings from the rdmserver.ini and connect.ini. You can easily examine and edit changes from this display.

Account
This section shows all users registered with RDM Server. You can set the home database for each user and also control user access.
Please refer to Help topic, Using CV11 Admin - User Accounts.

Database
This section has many options. You can select from a list of actions to perform at the database level. You can also drill down into tables to see the actual database schema. Please use caution in this area!
Please refer to Help topic, Using CV11 Admin - Database Administration.

Device
This section lists all registered devices. Settings may be modified and new devices may be registered in this area.

Extensions
This section lists all extension modules. Please use caution in this area!

Replication
Database Replication is disabled in Collect!.

SQL Browser
This section enables you to query the database. You can see your results immediately and export them to file.

All SQL enabled databases are marked with "SQL" in the Databases view and you can use the Tables tab DETAILS to view the database field names and data types for your queries.
The SQL Language Guide is available for viewing from the Raima web site. The URL is RDM Server Reference Guides. Select "SQL Language Guide" from the Table of Contents.

With Collect! Version 11.4.1.1 and newer, you can also insert records into your database through the SQL Browser. This enables you to test your INSERT and UPDATE queries. Please refer to Help topic, Insert Records With SQL for more information.

Summary
Several administrative functions may be performed through the CV11 Admin tool as described in the information given in this document. The CV11 Admin tool also enables database administrators to troubleshoot and diagnose issues in the Collect! CV11 system.

See Also
- Installation Topics
- Database Topics