Using CV11 Admin - Database Administration
This document provides an introduction to the RDM Server Administrator - Database section. There are many tasks you can perform from this administrative tool.

WARNING: You should not perform any actions on the databases or devices unless you know EXACTLY what you are doing or you will corrupt your database and possibly lose your data.
Database
The RDM Server Administrator - Database choice displays a view with several tabs. Databases shows a list of databases currently registered with this server. Additional tabs show Tables, Indices, Files and Sets.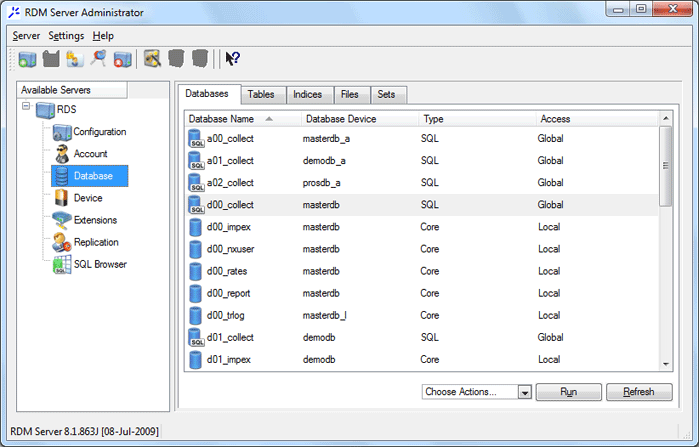 Databases View
Several actions can be accessed through the CHOOSE ACTIONS button. Several tasks may then be performed through the RUN and REFRESH button.

Rebuild Key Files
You can select a database and then select Rebuild Key Files from the CHOOSE ACTIONS pick list. When you select the RUN button this open a Rebuild Key Files window where you can select the key you wish to rebuild or switch ON "Rebuild All Keys" to rebuild the all database keys for the database which is currently displayed in the field labeled "Database."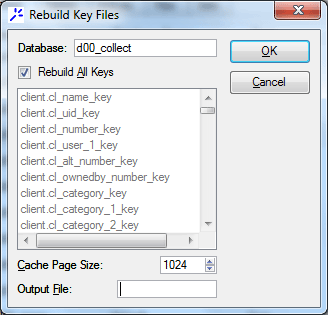 Rebuild Key Files

Each Collect! database has 5 databases linked together within it, so a full key build for the Collect! database in the MASTERDB folder would involve rebuilding keys for each of the d00_collect,d00_impex, d00_nxuser, d00_rates and d00_report databases.

Initialize Database
The action labeled Initialize Database in the CHOOSE ACTIONS pick list will initialize the highlighted database. Initialization recreates the database from scratch, but it also deletes all the data! Although circumstances in which you would to run this action are pretty rare, it is mentioned here because you will come across this from time to time in the Help topics. Please use caution!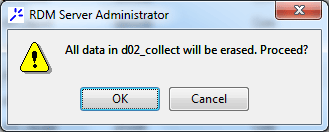 Warning prompt before initializing begins

See Also