Using CV11 Admin - User Accounts
This document provides an introduction to the RDM Server Administrator - Account section.
When you are viewing the Account section in the RDM Server Administrator, there are two tabs, User Accounts and User Access.
User Accounts
This is the list of the users who have access to your system. The list shows their home database.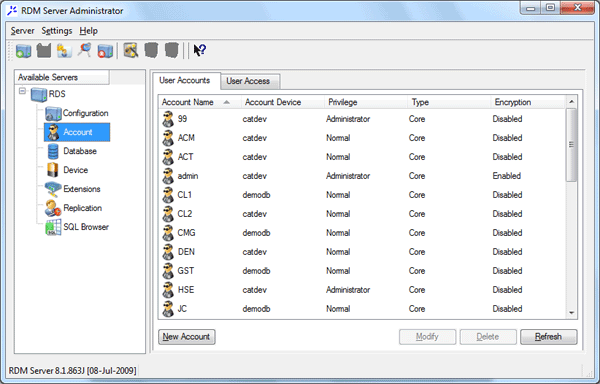 User Account Information

If you want to add new users to your system, you must do this through the Collect! interface. This area of the CV11 Admin Tool is for troubleshooting purposes.

User Access
This list does not have any entries in it when you first install or upgrade Collect!. The user access is set already. If you were to use ODBC to connect to the RDM Server, you might want to add entries with certain restrictions to suit your purposes.
The NEW button displays a form where you can set access rights. This does not affect users who are working within the Collect! interface.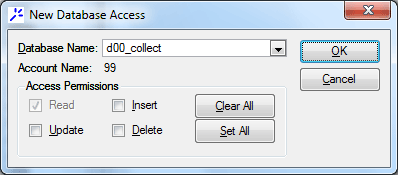 User Access Settings

Logged-In Users
To see information about users who are currently signed in, you can view the list from within Collect! by selecting System from the top menu bar in Collect! and then selecting Network and Environment, Active Users from the lists of choices that are displayed.
8. To view the Installation/Administration manual for more information about the RDM Server Administrator utility, select the link below.

Server ID And Password
The CV11 Server ships with a default ID and Password. Enter the username admin and the password secret. For security reasons, you may want to give the admin user a different password. This may be accomplished through the CV11 Admin Tool in the User Accounts section. Make sure you remember the Password that you assign!!!


Giving User Admin a New Password

Please be aware that after you change the Password, you may have to update any maintenance utilities that use the default password so that they can run with your new password.
Database utilities which use the default password for user admin:
Check.bat
Endbackup.bat
Fix.bat
Rebuild.bat
Shutdown.bat
Startbackup.bat
Timedrecfix.bat
Timedindex.bat
Timedsetfix.bat


Admin Privilege Level
This switch is enabled automatically for users created in the Collect! interface with User Levels 1 to 10 and User Level 99. You may want to work with this switch if you are accessing the database via ODBC. Otherwise, there is no need to change the Admin Privilege level for any accounts that you see in the list.

Admin Privilege After Upgrade
Upon upgrading your Collect!, you may find that your User Level 10 has not been set to "Admin privilege" in the CV11 Server settings. This results in not being able to create a new operator or a new import map. To remedy this, you must sign into the CV11 Admin Tool and switch On "Admin Privilege Level" for the affected user accounts.

See Also