TCN Setup
The TCN Setup screen is located by the menu path "System\ Preferences\TCN Setup" and used to store:
1. The login credentials that Collect! is to use to connect automatically to the TCN website whenever you need to upload a call campaign or download campaign results. These are provided to you by TCN when you establish your company account with them to use the service.
2. The path to where recorded call WAV files will be directed when received as part of a campaign result download. Having these files stored in a defined folder will allow you to retrieve them inside Collect! and listen to recorded call content as needed.

You much have a recorded call agreement with TCN in order to receive recorded calls from them as a part of your campaign results.
3. The default value for the Quick View number of days is used to define the date span that the Collect! Download Report will use to populate a Start and End date range when the Batch Process to Download Report is used. This is an editable field in the actual process screen that may be overridden.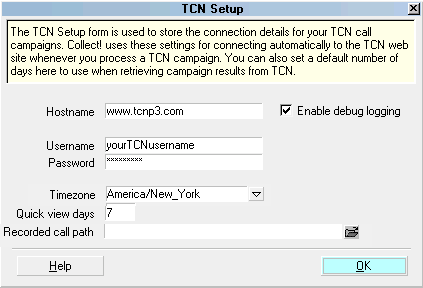 TCN Setup

The TCN Module is an add-on functionality. Contact Administration at 250-391-0466 option 3 for pricing options.
Hostname
This is the url provided to you by TCN.
Example:
Hostname: www.tcnp3.com

Username
This is the Username provided to you by TCN to access their website.
Example:
Username: yourTCNusername

Password
This is the Password provided to you by TCN to access their website.
Example:
Password: YourTCNpassword

Time Zone
Select a Timezone from the pick list to use as a default. This can be modified as or if needed.

Quick View Days
Enter a default number of days to use as a Start and End date in the Download Report function in Batch Processing. This date span will define the campaign result date range you are querying the TCN website for. This date range ability is handy if you are gathering data for inventory penetration rate analysis for the company as a whole and/or need throughput statistics for a specific client portfolio.
For example, inputting "10" in this field will display a date range of 06/01/2015 to 06/10/2015 for the Start and End when you
bring up the TCN Download Report screen. You can adjust the dates as needed on a per download basis.

Recorded Call Path
Enter the location where you will be saving your WAV files that are going to be returned from TCN as part of your campaign results. When the recorded calls are imported and attached to their respective debtor accounts, this path will all users in Collect! to access that recording and be able to listen to it. If you do not store your WAV files in the path you define in this screen, they will not be accessible from inside Collect! while on an individual debtor file.
Example:
\\servername\sharedrive\TCNdialer_wavs
For details about calls recorded during your campaign, see the Help topic, TCN Recorded Calls.

Enable Debug Logging
Switch this ON to log your TCN to Collect! and Collect! to TCN communications. When you are just setting up your new account with TCN, it prudent to have this ON so that Technicians at Comtech and/or TCN can assist you if there are any initial connectivity challenges to troubleshoot.
This switch should be left OFF for your normal day to day batch processing of TCN campaigns.

Information which is logged via "Enable debug logging" will be logged in the "Debug" section of the Collect! Application Log.

Help
Select this button for help on the TCN Setup screen and links to related topics.

OK
Select this button to save your settings and close the TCN Setup screen.

See Also