Run Contact Plan Batch
You are about to run a Contact plan on a batch of accounts, which may take a few minutes. Remember that at any time during the operation you can PRESS ANY KEY TO CANCEL.
You can have Contact plans that handle new account assignments, reassign account Operators, close accounts if their balance falls below a certain threshold, and many other functions.
Choose START to begin the batch processing.
Choose BACK to select a different range of accounts or a different contact plan for this batch.

To process automatic events that were scheduled previously, use the Process Automatic Contacts option in the Batch Processing form.
Help
Press this button for help on the Run Contact Plan Batch dialog and links to related topics.

Back
Select this to return to the previous form. You can then alter your settings or choose to close the batch processing procedure without running a batch.

Start
Select this to begin processing your batch. According to the settings you have chosen, this will run a contact plan on a batch of accounts.

Clear Tags
When you complete your batch process, Collect! may prompt to clear tags if you started your procedure with a tagged list of accounts.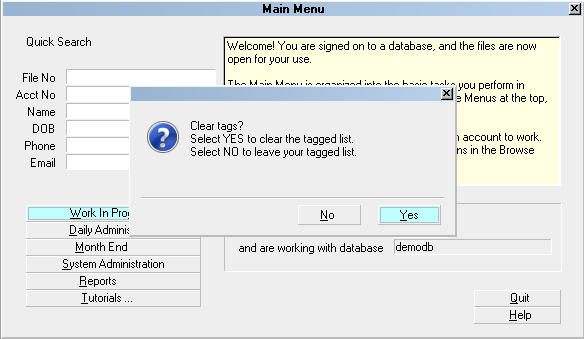 Prompt to Clear Tags after Batch Processing

See Also
- Batch Processing Topics
- How To Use Contact Plans