Clear Tags
This command is used to clear tagged lists of accounts. You can invoke the "Clear Tags" command from the Edit menu, Clear Tags option. You can also invoke it by selecting "T" in the Collect! Status Bar.
When you have completed the tasks on a list of records that you had previously tagged, you will want to clear and release the list of tags. If you do not clear your tags, sometimes these tagged lists will interrupt another task you are trying to complete.
Each form in Collect! has its own list of tagged records. You may have a tag list of Clients and a list of tagged transaction records. If desired, with "Clear Tags," you can also clear any underlying tagged lists, as well as the list you are currently viewing.
Clear Tags When Viewing A Record
If you are on a record, such as a Debtor or a Transaction, the Clear Tags command will clear tags in the underlying list or the SAME TYPE of record. For instance, if you are looking at a Debtor and you have a list of tagged Debtors, you can clear the list while you are viewing a Debtor account. Just select Edit, Clear Tags and the underlying tagged list of Debtors will be untagged.

Clear Tags When Viewing A List
When you are on a list of tagged records, selecting Edit, Clear Tags gives you additional options with the "Clear Tags" prompt.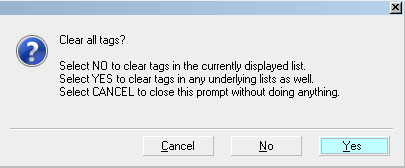 Prompt to Clear Tags

To bring up the "Clear Tags" prompt, you must be on a list of records with at least one tagged item when you invoke the "Clear Tags" command.
When the "Clear Tags" prompt is displayed:
Select NO to clear only the tags in the currently displayed list.
Select YES to clear tags in any underlying lists as well.
Select CANCEL to close the Clear Tags prompt without clearing any tags.

Exiting completely out of Collect! to your Desktop will also clear all tagged records.

Clear Tags After A Batch Process
When you complete a batch processing procedure, Collect! may prompt to clear tags if you started your procedure with a tagged list of accounts.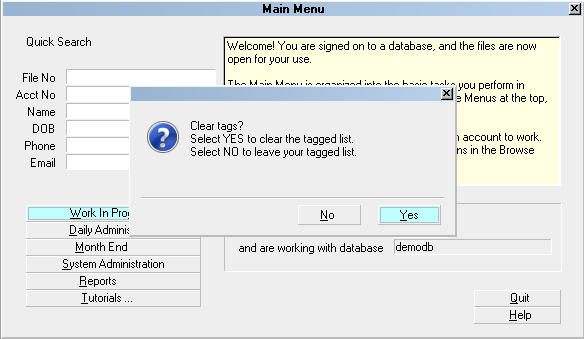 Prompt to Clear Tags after Batch Processing

You will only see this prompt if you tagged records BEFORE you selected Tools, Batch Processing to begin.
When you tag records from the Select Accounts to Process, Tag Individual Records option, then Collect! clears those tags automatically when the batch has completed, without asking if you want to clear tags.

See Also
- How To Start Using Collect!