Export A Group Of Reports
This topic gives you steps to export a group of reports from your database.
Reports in your Collect! database may be exported to an ASCII text file. On an individual basis, this process is explained in How To Export A Report. Using very similar steps, you may export a series of reports. This is a convenient way to export multiple reports in one easy step.
When you export a group of reports from your database, these reports are saved to one file with an *.rpt extension. This ASCII text file might be sent to Collect! Technical Support, or to another office or Collect! user.
To get the reports out of Collect!, we export them and give the report file a name. (e.g. myreport) Collect! saves it as an ASCII text file and gives it an *.rpt extension.
Make sure you know exactly which reports you want to export. Also, have a name ready to give to your exported report file and know where on your computer you want to save it. Saving to your Desktop is convenient.
Let's proceed, now, with the steps below to export your group of reports from Collect!
1. Sign into Collect! as you would normally and select Print from the top menu bar. Then select Customize Printing, Export Report Template.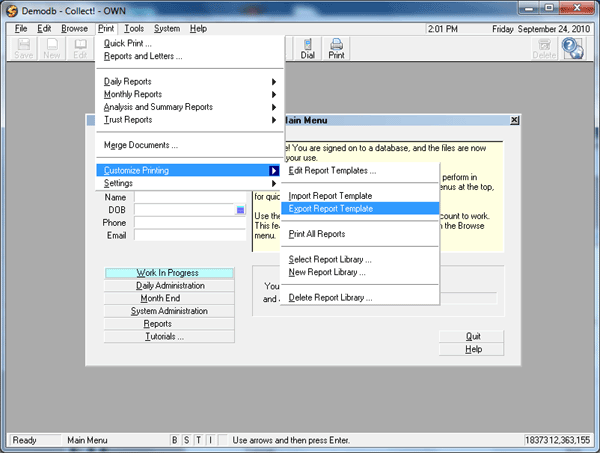 Print Menu Export Report Template
2. This displays the Report Definition list where you see all the reports and letters in your working database.
3. Using the up/down arrow keys on your keyboard and the spacebar, select the reports you wish to export. Each report you select will be highlighted in blue. When you are finished selecting your group of reports, leave your cursor on the last selected item which will be highlighted in yellow.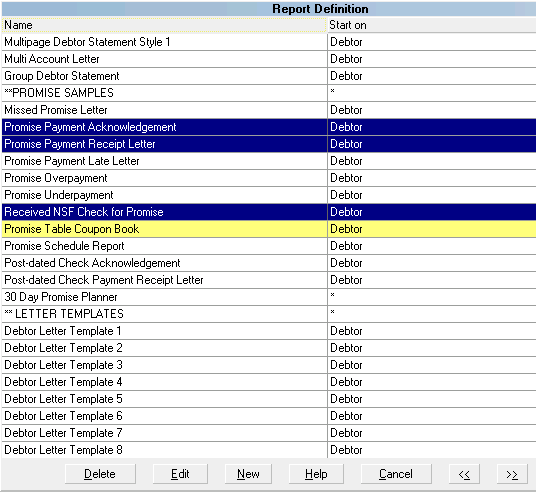 Selected Reports To Export
4. To continue, press Enter, select the OK button at the bottom of the list, or press F8. The Export Collect! Report dialog pops up.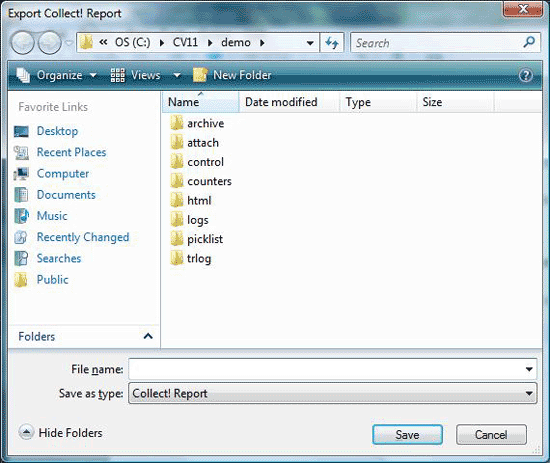 Export Collect! Dialog
5. Use this window to navigate to the folder where you want to save the exported reports file. If you know the location, you can type this into the Filename: box. Or, you may use the down arrow next to the Save In: box to navigate to the Desktop, or to the folder where you wish to save your *.rpt file. When you are in the folder, type in a name for your file in the Filename: box.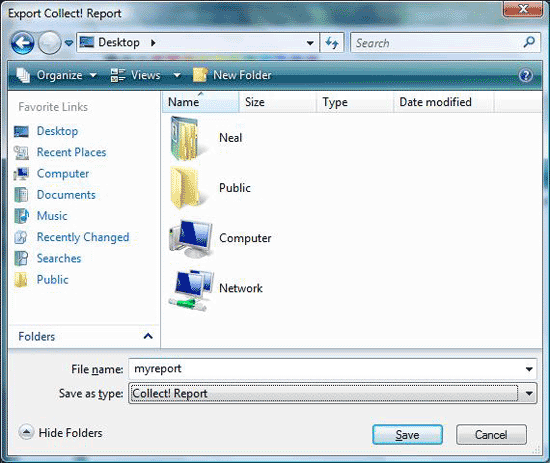 Report To Save
6. Select Save to export the group of reports.
7. Now you will be prompted to export Printer Control Codes. Please choose Yes if you want to include your printer control codes in the *.rpt file.


Prompt to Export Printer Control Codes
Your selected reports will be exported immediately and a message will show the name of the report file that was created and the location where you saved it.


Report Export Success
Please make note of the location so that you can find the exported report. It is a good idea to write down the filename so that you can locate the report easily.
8. Select OK to close the message window.
If you are going to send this file to Collect! Technical Services, you can attach it to an email. Please refer to your email program's help documentation on attaching a file to an email.
@include files
If the reports you are exporting use @include files, please also attach them to the email along with the *.rpt file that you send to Collect! Technical Services. @include files may be found in the Collect! application's STYLES folder, (e.g. CV11\styles)
Locating the exported report file
If you do not know where on your computer the report file was saved, you may do a search for files and folders using the Windows Search feature to locate your report file. You have to know the exact name of the file or do a search for all *.rpt files.
Please refer to your Windows Help for details. Type in "searching for files and folders" as the keywords for your Help topic and you should see results that help you use the Search feature.
When your *.rpt file shows up in the search results, select it and Right click on it with your mouse. This will display a submenu. Select COPY from the submenu.
Now, move your mouse to a spot on your Desktop. Right click again and select PASTE.
A copy of the report file is now on your Desktop. This is a convenient location to use to easily find the *.rpt file if you want to attach it to an email.
Viewing a report outside of Collect!
This *.rpt file will contain several report definitions, one for each report that you selected to export. If you need to open it, please open with a text editor that will not change the format. If you open the file with a word processor, MAKE SURE you save it as a text file and not in the word processor's default format as this will make the file unusable by Collect! Any changes made to the report file may make it unusable for importing purposes.

Please be aware that exported reports DO retain any additional settings contained in the report definition's Report Options.
See Also
- Import A Group Of Reports
- Report Sample to view sample reports and letters
- Report Topics Index for a list of all report and letter topics
- How To Copy Reports To Master Database