Database Maintenance Options
Database Maintenance Options provides several advanced settings for maintaining and repairing your database. The settings you choose may be saved to use as defaults whenever maintenance is performed.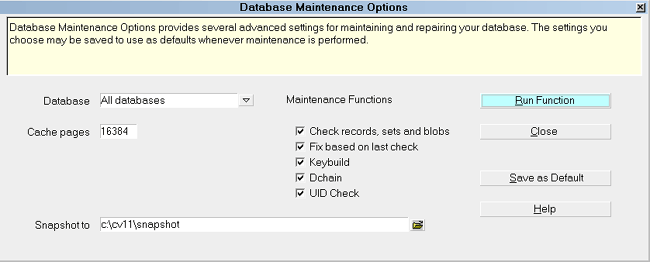 Database Maintenance Options
We recommend you backup critical data files before running maintenance since, if the machine is failing, the maintenance, while manipulating data files, may cause undesirable consequences and, potentially, loss of data.

Please refer to Backup Database Topics for options for backing up your files.
Database
From the pick list, select the individual database you wish to maintain. Selecting "All Databases" will run the functions you choose on the entire Collect! database device.

Cache Pages
This setting affects the speed of the maintenance functions. It depends on your available system memory. A value of 16384 should result in good performance.

Maintenance Functions
This section lists various types of maintenance that may be selected. Each function may be run on all databases or you may select an individual database from the pick list in the Database section.

Check Records, Sets And Blobs
Switch this ON with a check mark to run dbcheck on all records and set relationships and blobs.

Fix Based On Last Check
Switch this ON with a check mark to run the dbfix utility to repair errors reported when dbcheck was last run.

Keybuild
Switch this ON with a check mark to rebuild the indexes for the selected database. Index files are created and maintained by Collect! and are used to perform fast searches on names, phone numbers and other fields.
Index files can, however, become corrupted at times. Rebuilding index files should be done periodically as a matter of routine maintenance to ensure that your searches are accurate.

Dchain
Switch this ON with a check mark to sort the internal delete chain list for the selected database. This optimizes the reusing of these empty spaces.

UID Check
Switch this ON with a check mark to run a UID check on the selected database. UID Check ensures the integrity of Collect!'s unique record identifiers.

Run Function
Select RUN to start the database maintenance using the settings you have chosen.

Snapshot To
This field displays the current snapshot path. If no path is specified, the Server will fall back to the default, CV11\snapshot folder. The snapshot path is stored in the collect.cfg configuration file.

When selecting a path, the path MUST exist. Collect! will not create a path if it does not exist.

Close
Select CLOSE to return to the previous form.

Save As Default
Select SAVE AS DEFAULT to save this configuration for database maintenance to the collect.cfg configuration file. You must restart your CV11 Server to register the new settings.

Help
Select HELP for information on Database Maintenance Options and links to related topics.

See Also
- How To Maintain Your Database
- Database Maintenance Topics