ACH Step By Step - Part 1 - Setup
This "Step-by-Step" series is intended to provide you with an orderly progression of procedures and procedural considerations.
The actual details and expansive explanations are contained elsewhere in the Help pages and will be referred to by link to follow at the end of each page, where applicable.
This Step-by-Step page is dedicated to setting up your system in readiness for ACH Payment posting.
When you have completed a full review of all the steps, you should be:
Setting Up For ACH Payments
There are five areas in Collect! that require coordination and/or configuration when you begin using the module.
This page lays out the areas requiring input or decision with a suggested procedural order to follow with a view to making your Billing Tree Module ready for operational rollout. The module needs up to 5 Transaction Types to be existing for posting ACH Payment. By default, the module uses these Transaction Types:
107 - Payment
105 - Payment Reversal
301 - NSF Charge
307 - Convenience Fee
305 - Convenience Fee Reversal
View: ACH Payments Transaction Types
It is necessary to confirm that you have the necessary codes available and that they are configured to function in keeping with your site's operational requirements. To find your Transaction Types list of codes, your menu path is "System\ Financial Settings\Transaction Types".

Press F1 from the Transaction Type screen to see details for each field in this window.
For detailed explanations and descriptions of the Transaction code setup, follow the link below.

ACH Setup
The ACH Setup screen is located in the menu path, "System\ Preferences\ Billing Tree Setup\ACH Setup". This is where you store the module's login credentials to the ACH Gateway and define your company's preferences for the module's function and behavior.
For detailed explanations and descriptions of all the fields in the ACH Setup screen, follow the link below.

See Also

EFT Notices Setup
The menu option to set your Notification and Reminder letter parameters is the third option in the Billing Tree Setup menu which is located via the menu path "System\ Preferences\Billing Tree Setup\ EFT Notices Setup".

Press F1 from the EFT Notices Setup screen to see details for each field in this window.
For detailed explanations and descriptions of all the fields in the EFT Notices Setup screen, follow the link below.

See Also

ACH Client Settings
If your company is going to be charging convenience fees to debtors for ACH payments, in addition to enabling the feature in the ACH Setup window, you do need to enable an indicator in each client Advanced Settings screen in order to enable the fees for that specific client.
Click the Advanced button in the lower right corner of the client screen and you will see a screen as follows, and the "ACH convenience fees" switch is shown in the red box.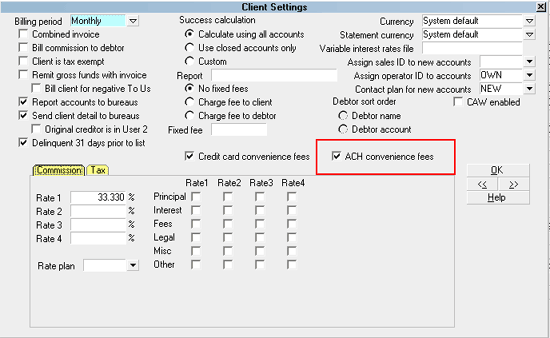 Client Settings screen

If you have a large client base which practicality would preclude manually updating this switch for ALL clients (or a large tagged list), contact Technical Services for assistance with a writeback to enable a volume of clients en masse for this switch.

Debtor Detail
Like all the Tabs located in the lower portion of Collect! main windows, the Debtor Detail Tab is a sub-window that is actually a separate entity from the main Debtor screen. The Detail Tab is pre-configured for use as a storage site for banking information, and can be utilized for any end- user defined purpose or preference.
This sub-window becomes a consideration because the module uses it to store information obtained during the ACH payment screen intake. Bank name, account and routing numbers are auto-written from the ACH Single or Recurring payment entry screen into the Detail Tab.

If your company has any data storage convention that uses areas in the Detail Tab, you may wish to contact Technical Services to discuss your options to migrate this information into a special Attachment Tab window we can create for you BEFORE you rollout live with the module.
This will ensure your data isn't lost and the module's function is not being impeded by staff removing what it writes into this Tab.
What exactly the module will write into this tab will be covered in more detail in the ACH Step by Step - Part 2 - Single Payment topic.

Posting Payments
After you have entered the settings and decided on the operational issues described so far, you are ready to begin posting ACH payments to your accounts.
Proceed to ACH Step by Step - Part 2 - Single Payment and other topics in the ACH Step by Step series for detailed instructions.

See Also