Client Settings Basics
The Client Advanced Settings screen stores values and preferences used by the system to help you automate your operation while reducing manual steps needed to complete frequent/repetitive tasks.
It is located by clicking the Advanced button which resides in the lower right corner of the main Client screen. It is a very important setup screen as it is where significant Preferences settings are set for each individual Client.
Understanding the impact these Preferences settings allows your office to get the most out of the system as well as properly configure your Clients to have trouble-free data management with your office.
Example 1: your Client keeps telling you that they want a " Gross Remit Statement" from you. If your staff don't know that this is a 2-switch decision in the Advanced Settings screen of the Client, you won't be able to accommodate their requirement. The Client will not be pleased when they keep receiving a "Net Statement".
Example 2: your Client keeps calling to complain because the commission being charged on their Statement is the 'old' rate. If your staff are telling you that they changed the Client's rate as requested and they don't know why the system just won't charge the new rate, somebody on the team didn't update the Shelf Inventory when the 'old' rate changed. Client Advanced Settings does not affect shelf inventory retroactively. There are other steps to be taken, which are discussed in the topic "Mass Update Commission Rate".
All staff who will be administratively responsible for clerical tasks in your organization need to be conversant with the Advanced Settings screen and how the settings affect outcomes in other areas of the software.
A few of the important functions controlled from the Advanced Settings screen are:
Remit Type; Net, Gross or Combined
Commission rate(s) or Rate Plan
Tax, if applicable
Credit bureau enabled or disabled
Charging other fixed fees
Assigning collectors and inside salesperson IDs
Recovery (success) calculations
Initializing automated collection strategies
Be aware that all system preference switch settings are configured to be changes made on a go forward basis, and will not retroactively update existing inventory. If you have a change that must be both retroactive and go forward, contact Technical Services for a consult on usage of a Writeback report or Contact Plan with an Edit event to auto-update all of the debtors for the target client with the new information. Depending on complexity and number of fields to be modified, there may be some charge at the Technical Services timed services billable rate.
When assessing what to do with a Setting that a particular Client doesn't use, before discarding any in-place settings, consider what might be involved if there is a later need for it. You may have to come back and revisit all Debtors because the decision wasn't made previously and this setting is now needed.
Example: If you anticipate that you will be Credit Bureau Reporting in the future and you know (as you are entering Clients into your system for the first time) that many of these Clients will be wanting you to report on their behalf, then check the Credit Reporting box NOW to save time having to revisit every Client to update this switch later.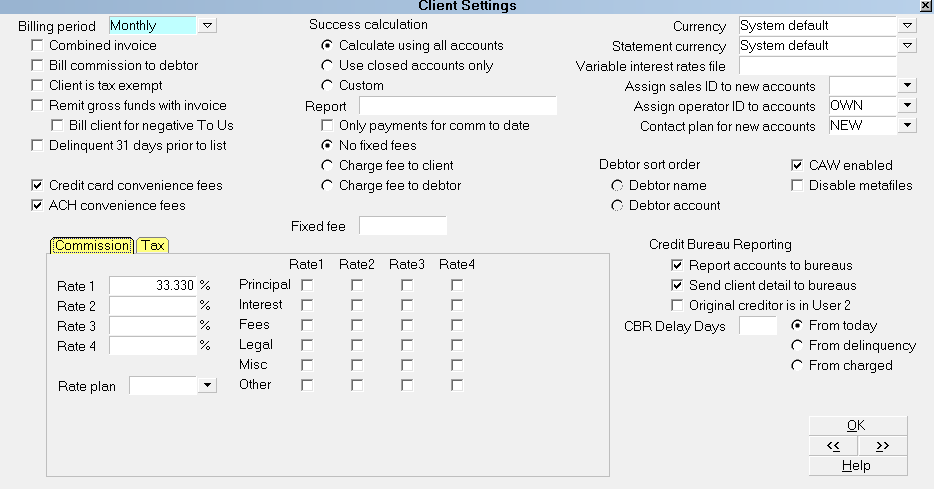 Advanced Client Settings Screen
Accessing Advanced Client Settings
The Advanced Client Settings screen may be accessed only one way. If your Operator level has permissions to this screen, it is accessible by clicking the "Advanced" button in the lower right hand corner of the Client screen. A whole new window will open, displaying a full screen of option switches which need to be carefully completed.

See Also