Billing Tree Credit Card PIN
Enter the Server (url), Source Key (UserID) and PIN ( Password) provided to you by Billing Tree. You need to enter this login information once per session unless you opt to enter a Global login, in which case the login credentials will be prefilled for all users. If you opt for the non-global site login, then users will be prompted to add the information again on their next Collect! login.
To access the setup screen, the menu path is "System\ Preferences\ Billing Tree Setup\ Credit Card Setup".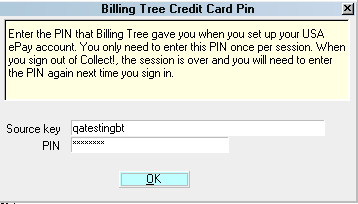 Billing Tree Credit Card PIN
Set Credit Card Login Globally
You can enter your PIN (password) into the Credit Card Setup window located in the menu path "System\Preferences\ Billing Tree Setup\Credit Card Setup". It will be stored and used each time users sign into Collect!. Except for User Levels 1, 10 & 99, your other users in all other levels will not see the Billing Tree PIN prompt at all after the global login is created.

Server
This is where you enter the url (web address) of the Billing Tree Credit Card Gateway that is provided to you by Billing Tree.

Source Key
Enter your Source Key (User ID or Login ID) assigned to you by Billing Tree. This is historically a very long alphanumeric code that can contain special characters such as an underscore in the first position.
You can set up different user logins with Billing Tree if you need to set different transaction amount limits for your operators. In this instance (multi-logins), you would not wish to set the global login credentials in the setup window.

PIN
Enter your PIN (password) assigned to you by Billing Tree.
A globally set Source Key and PIN will be presented to level users 1, 10 & 99 much like a 'Remember Me' login presents anywhere else; it will be auto-filled. If there are no changes to the info, these users need only click OK to proceed to the next screen. All other user levels will not see or be presented with the Billing Tree login popup once it has been globally configured.

Per Session Credit Card Logins
Alternatively, if your company has need of different logins to control user permissions such as max credit card balance they are allowed to process without management authorization, then not setting a global signon for Credit Cards would be recommended. This would mean that each user would be required to enter his or her login credentials each day (or per Collect! session).

If you intend to use more than one Billing Tree login account to apply payments, it is important to be aware that you must run a Reconcile Credit Card History daily for EACH separate login being used.

OK
Click OK to save the PIN number for your credit card payments for that Collect! session. A Per Session Login user of Billing Tree will be prompted again upon their next login into Collect!.

See Also