Restoring Data From Change Logs
When you have enabled transaction logging in your database, you can examine changes to records, restore data and even restored deleted records. This requires that you have enabled logging in the Change History Settings form.
To switch ON database change logging, select System from the top menu bar and then select Network and Environment from the drop-down choices. Select Change History Settings to open the Change History Settings form.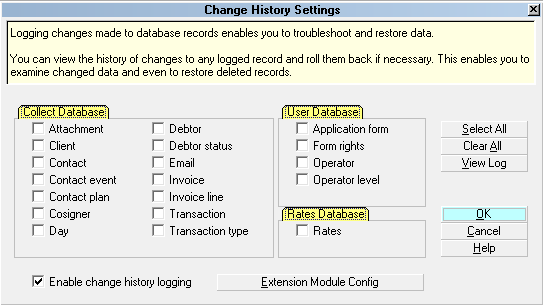 Change History Settings form
After you have made your selections, any changes to your database will be logged for the records you have switched ON with a check mark.
If you have been logging changes, you can examine them at any time. To begin examining changes, select the VIEW LOG button.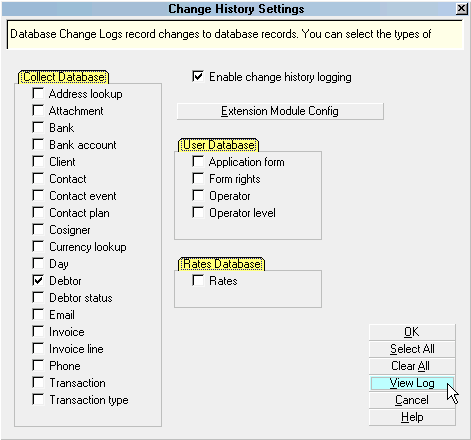 Select View Log to View Changes
This will display the Enter Search Criteria form where you can set criteria.
1. Select the database that has the records you want to examine.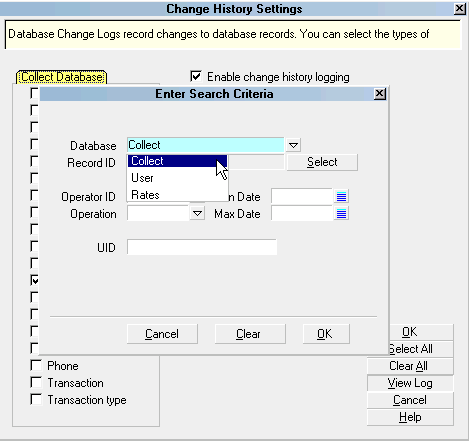 Select the Database
2. Press the SELECT button to view the list of records in this database.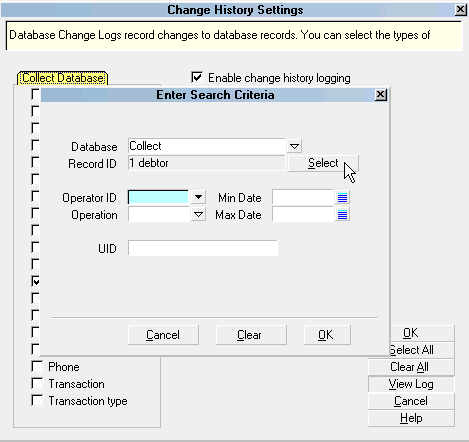 Press Select
You will see all of the types of record available.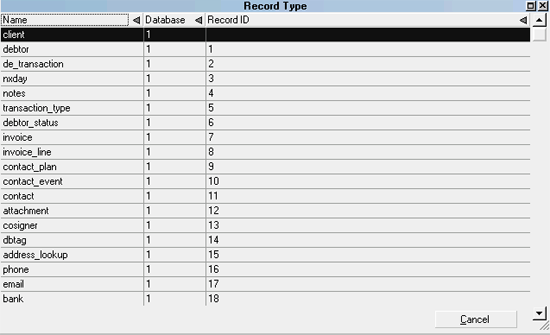 Types of Records in Database
3. Select the type of record you want to examine and it will now be displayed in the Enter Search Criteria form.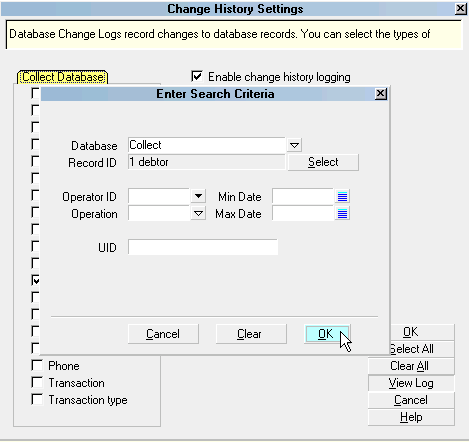 Types of Records in Database
4. Press the OK button to view the results of your search. You will see the Transaction Log History entries.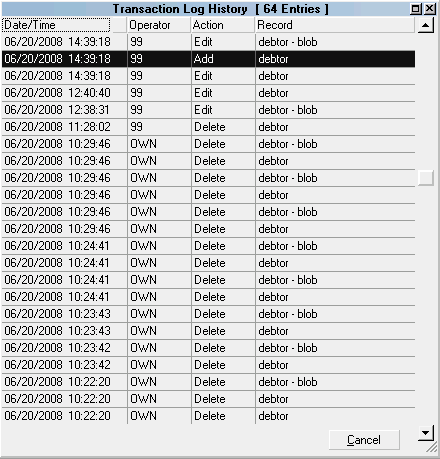 Transaction Log History
5. From the log, select the entry you wish to examine. All the relevant details will be displayed. The example shows a deleted Debtor.
You can scroll down to see all of the information stored in the log for this particular entry. Select the RESTORE button if you wish to restore the Old Data.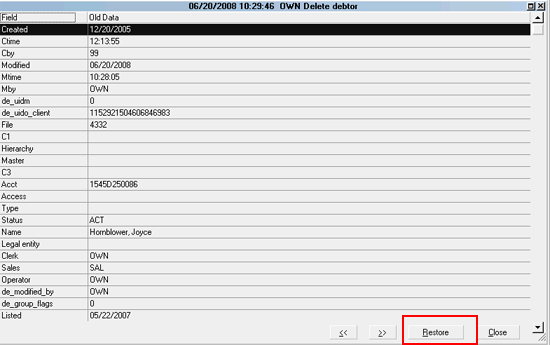 Select Restore to Restore the Debtor
After you have restored the Debtor record, you can visit it in your database and you will find that all of the subrecords have been restored as well.
Summary
The database change logs in Collect! enable you to examine changes to your database by date range to see which user IDs have enacted updates to your system (i.e. internal spot-checking for authorized updates or deletes on debtor or other files in the system), restore old data and even restore deleted records. To do this, you must have logging enabled. Only enable the records you need to track so that you can limit the size of the transaction log files.

You can also restore data at the field level by visiting the Record Statistics for any open record in Collect!. Please review that Help topic for more information.

See Also