How To Use The Amortization Schedule
This topic discusses the use of a handy tool in Collect! to assist you in interest calculations. This requires familiarity with use of the Interest Detail form in Collect! and Amortized Interest.
Quickly view and print an Amortization Schedule after you have entered your interest details for a Debtor account. The schedule also displays current credit bureau status for the underlying account.
Enter Interest Details
Before you can use the Amortization Schedule, enter all pertinent details in the Interest Detail form. This includes the following which are covered in the Interest Detail help.
Switch ON Amortized Loan
Annual Interest Rate
Period
Rate Basis
Calculate Interest From
Term
Example: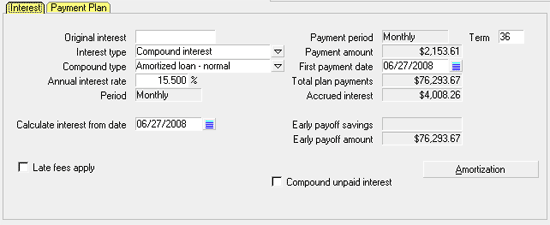 Interest Detail form with Amortized Normal
When you have entered all of your settings, select the Amortization Schedule button to display the Amortization Table Summary.

CBR Status
Notice at the Column entitled CBR. This is the current status of the loan according to credit bureau reporting standards. Please refer to your credit bureau manual for details.

Print The Amortization Schedule
The subform Atable Entries is best printed to your Browser for easy viewing.
To do this:
1. Select the Print icon from the top toolbar. This will display a list of reports and letters.

2. Select Quick Print from the list. This will display the Print Report dialog where you may set your printing options.

3. Select the PRINTER SETUP button and make sure there is a dot in the radio button labeled Print Via Browser. Select the EXIT button to close the Printer Setup form and return to the Print Report dialog.

4. Select Printer and you will see two options - Print
and Preview.

5. Select Preview so there is a dot in the radio button.

6. Select the PRINT button. This will display the table in your Internet browser.

See Also
- Interest Detail
- How To Setup Amortized Interest