Contact Plan Basics
The Contact Plan form is used for automating functions performed in Collect! Contact Plans are an extremely powerful feature. Almost anything that you can do manually while on the Debtor form, can be automated with contact plans.
When you enter a new account, you might flag the debtor status to NEW or ACT by pulling down the pick list on the field and manually selecting NEW or ACT from the Debtor Status codes list. If you decide to send this account to Legal, you might manually select a debtor status code of LEG and then select the Rate field to change the commission rate to 45% from the 30% currently set in the field. These steps can also be done automatically in a Contact Plan.
Also, you might schedule a contact for the account manually, by selecting the Contacts tab on the Debtor form and creating a letter contact for Settlement Letter to be printed in the batch tomorrow.
Although, manually scheduling contacts works well, many times, you would have to enter the same contact over and over again, because it is on a repeating schedule. Other times, you might need to enter several contacts to work the account properly. For instance, perhaps a letter, a phone call and a review are necessary. When you find that you are repeatedly entering the same contact, or scheduling multiple contacts to perform the work you need done, let Collect! do your work for you with a Contact Plan.
A contact plan is made up of many contacts used together as a single entity. Each single contact in a Contact Plan is called an Event.
* An Event can be a letter, a review, a change in status, posting a transaction and many other types of events.
* An Event may be scheduled to run immediately or at a predetermined date and time in the future.
* An Event may be assigned to an Operator you specify, may have a specific priority, may be scheduled to run only if a certain condition is met
The bottom line is, can you do it manually? Great! Design a Contact Plan to do it for you automatically. But don't try to create a Contact Plan to do things that you have not tried to do yourself manually.
The Demonstration Database in Collect! contains many samples of Contact Plans. Run them, review what they do, modify and retest. This is a great way to speed up the learning curve.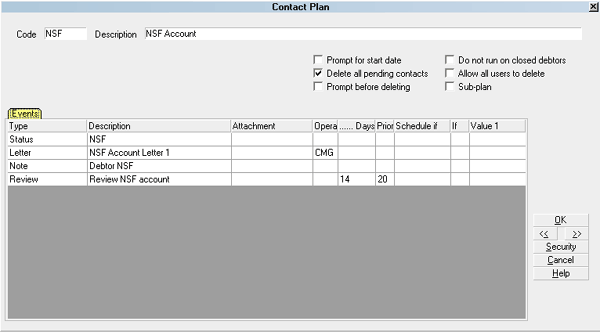 Contact Plan form
Accessing Contact Plan
There are several places in Collect! where you may access the list of contact plans.
Debtor - Action button or F2 in the Action field

Client - Detail tab - Contact Plan For New Accounts pick list

System - Contact Management Settings - Contact Plans - View

Tools - Batch Processing - select Run Contact Plans when you get to the Select Contact Plan screen. Select the Edit Contact Plans button

Contact Plan - Plan Event - Description pick list

Plans, Tables and Defaults - Contact Plans button

Plans, Tables and Defaults - Transaction Type - Run contact plan pick list

Plans, Tables and Defaults - Payment Plan Setup - Contact plan on posting pick list

Plans, Tables and Defaults - Payment Posting Options -
Several fields have contact plan pick lists

Import Menu - Run contact plan pick list

Import Options - Schedule contact plan pick list
When the list of contact plans is displayed, select a plan to modify it. Select the New button or press F3 to create a new plan.

See Also