Archive
The Archive Menu provides commands for archiving records or restoring records to your working database. Select Tools from the top menu bar and then select Archive to access these functions.

If you intend to archive accounts, you should ensure that all financials are finalized on the account. If you archive an account that has not been reported on a month end statement, the financial information will not be included when you generate your statements.

If you intend to archive accounts, you should ensure that you have recalculated any debtors that you intend to archive. You should also recalc the client. Please be aware that if you press RECALC on the the Client form, it does not recalc the underlying debtors. If you archive accounts that have not been properly recalculated, the Client totals may appear incorrect in your working database.
When archiving or restoring accounts, Collect! will show you exactly how many accounts and related records are actually being archived or restored.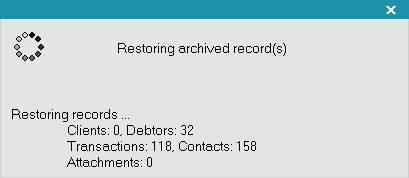 Restoring Archived Accounts
If you cancel the Archive operation (by hitting ESC), Collect! will complete whatever record it is archiving or restoring before escaping from the Archive process.