Write Configuration File
Selecting the Write Configuration File command will cause Collect! to write to a file the switches and default settings held in the collect.cfg file.
Many values and flags are written to the collect.cfg file when installing and using Collect! When computers have file corruption or hardware problems, the results can affect how Collect! starts and functions. The support team may ask you to rename or delete your collect.cfg file for troubleshooting reasons. When you delete the file, you delete all the values and flags that were saved with your particular Collect! setup.
Writing the configuration to disk gives you an ASCII text file that can be viewed and printed with any text editor. That way, all your custom setup values are available if you want to reset them after Collect! creates its new default collect.cfg file.
Collect! always checks for the collect.cfg file on start up. If the collect.cfg file does not exist Collect! will automatically create a new one and set the values and flags back to first time install values.
The Write Configuration File function creates a file in the config folder of your Collect! installation. This file is named collect.ini. For example, CV11\config\collect.ini. If the file already exists, this function will overwrite it.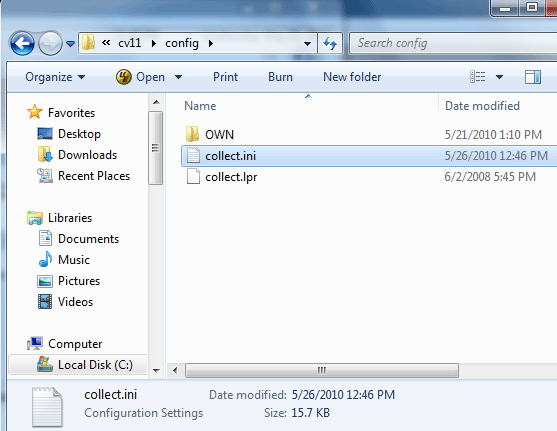 Collect.ini in the Config Folder
Select System from the top menu bar and then select Network and Environment from the drop-down choices. Select Write Configuration to File to create your configuration file.
When you select Write Configuration File, the process completes very quickly and a message informs you of its success.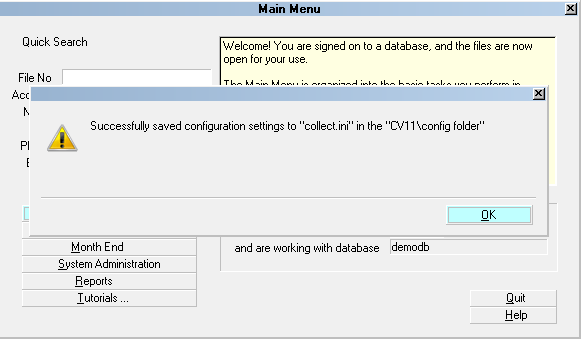 Write Configuration File message
You may use the top menu bar in Collect! to choose File, Open File to navigate to the folder and open the collect.ini. Or, you can use any text editor to open the file outside of Collect! if you wish.
Collect.ini contents viewed in Notepad
You can print this file to help you reset configuration values to your previous custom settings. Once you have reset or customized your values, you can reload them using Read Configuration File.
See Also