Read Configuration File
Selecting the Read Configuration File command will cause Collect! to load all the settings in the collect.ini file from the CV11\config folder. This is useful to customize a number of settings at the same time, or to restore your settings after creating a new collect.cfg for troubleshooting purposes.

This file must have been previously created using the Write Configuration File option and edited to suit your purposes, if needed.
The Read Configuration File function loads all the settings and switches in the collect.ini file in the config folder of your Collect! installation. For example, CV11\config\collect.ini.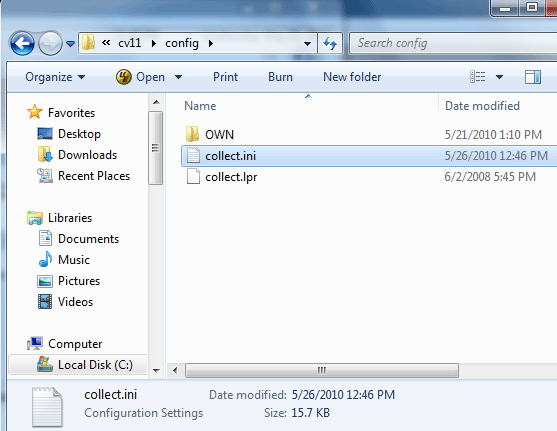 Collect.ini in the Config Folder
Select System from the top menu bar and then select Network and Environment from the drop-down choices. Select Read Configuration File to load your customized configuration file.
When you select Read Configuration File, the process completes very quickly and a message informs you of its success.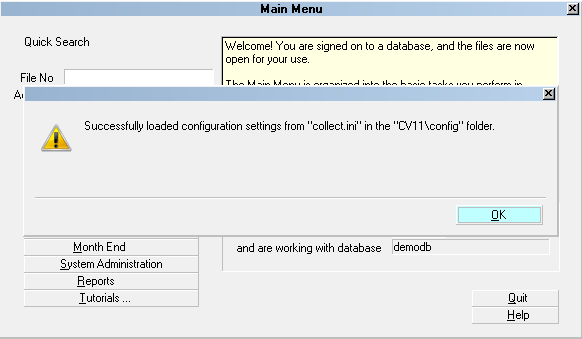 Read Configuration File message
It is a good idea to sign out of Collect! after loading your settings and then sign back in to see the results.
If Collect! is not able to read the configuration file, you will see an appropriate message.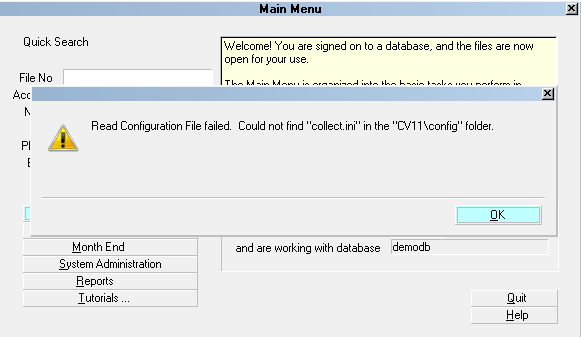 Read Configuration Failed
See Also