Operator Sample - Sales Team Operator
This sample shows a Sales Team Operator setup. A Sales Team Operator would never need to sign into Collect!. This operator setup is used by Collect! to help with accounting when dividing commissions among multiple operators. Collect! has internal reports that examine transactions flagged with a Sales Team Operator and print out commission amounts for various members of the sales team. The effect of the settings shown on the Operator form in this sample are explained in further detail below.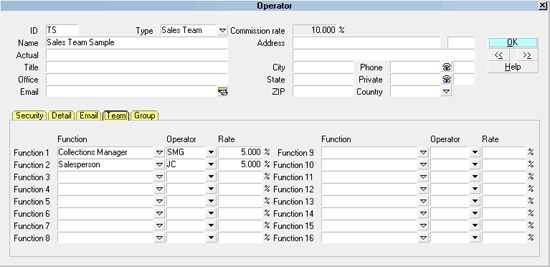 Sales Team Operator
The Operator Name is used for commission breakdowns when running Collect!'s internal transaction analysis reports.
This user's Operator Title is not need for this operator setup.
The Commission Rate is calculated by Collect! when you assign individual commission rates for team members on the Operator form. Collect! calculates the total of all individual commission rates and places the value in the Commission Rate field.
The Operator Type has been set to SALES TEAM which allows you to access the Team tab and display the member setup fields.
All other switches and fields are not necessary for the Sales Team Operator. However, you must enter a Password and User Level in the Operator Security section. You should never sign into Collect! as a Sales Team operator.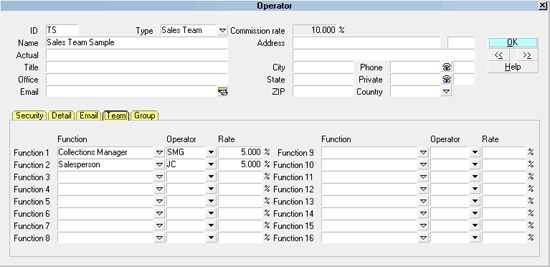 Security Settings for Sales Team Operator
For more information on working with Sales Teams, please refer to the documentation linked below.
See Also
- Account Toss
- Operator Basics - Introduction/Accessing
- Operator Samples
- Operator