Client Payment
The Client Payment form is used to enter a single payment across multiple invoices. Once posted, Collect! will create a payment record for each line item being paid. The payment tab is located in the lower portion of the Client screen with the other sub-file tabs ( Debtors, Invoices, Notes, Contacts, Attachments).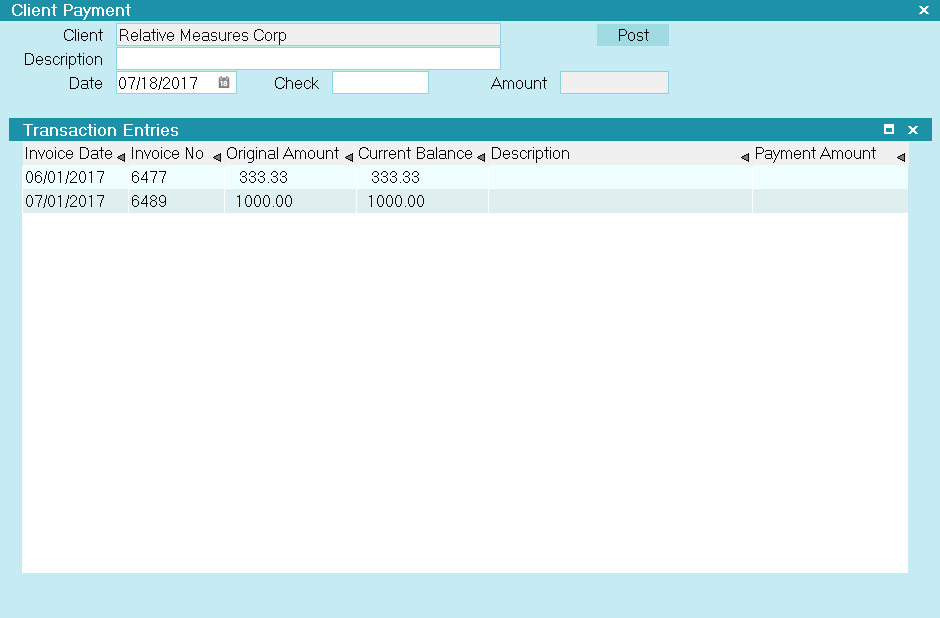 Client Payment Screen
Payments are accurately reflected in your month end Statements/Invoices.
The Payment is credited to the Client's account.

The Payment tab on the Client screen is NOT used for Debtor payments. To apply Payments from Debtors, use the Transaction tab on the Debtor screen. This can be accessed on a per debtor basis or via the menu path" Daily Administration\ Payments and Charges\Debtor Payments and Charges".
Client
This is the name of the Client for whom you are about to post this current payment or charge. If this is blank, press F2 OR click the drop-down arrow to pick from your Client list. If you are posting from the Payment Tab on a specific client screen, you should see the current Client's name already populated in this field.

Date
This field displays the date you received and deposited the payment. Press F2 OR click the calendar icon at the right of the field OR manually input the date. This date will be used when generating statements.
By default, the current date is displayed.
It is very important to NOT back-date a client payment into a month or other statement cycle that you have previously finalized by generating/printing your Statements and Checks for. The system has no way to include a new transaction line item into the accounting for a period if that period is already considered closed.

Amount
This field shows the total amount of the Client payment or charge to the Client account. Please note positive entries are credits to the Client's account while negative entries are debits.
This field is read only and is a sum of the Payment Amount column in the Transaction Entries list.

Description
This is a brief description of the payment or charge for your internal records.
Client Payments appear on statements prefixed with "Client Payments Processed".

Check
This field allows you to store the check number if the payment received was via a check. This is a number only field.

Post
Selecting this button will save any data you have entered and return you to the previous screen.

Transaction Entries
Please refer to the Help Topic Transaction Entries for more details.

Importing Client Payments
You can import and export Client Notes, Client Attachments, Client Contacts and Payments. This requires that you are licensed for the optional Import/Export module.
Sample import maps are shipped with Collect! and are available for download from the Member Center.