Analysis
Analysis And Summary Reports
The following reports offer a variety of convenient summary and analysis listings that you can print directly from the Print menu.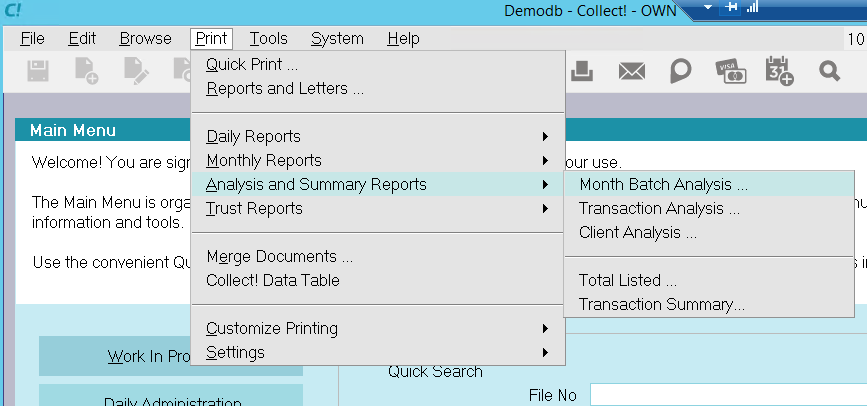 Analysis and Summary Reports

Month Batch Analysis
The Month Batch Analysis report provides recovery statistics on a month by month basis, scanning back up to two years. All accounts listed in a given month are totaled to calculate the Total Listed, Total Interest, Fees and Adjustments, Total Paid and Total Owing, Recovery Percentage and Unit Yield.
This report scans all active Debtors when no Browse List is being displayed. If printed when displaying the Client form, it will scan only those Debtors belonging to the displayed Client.
Cumulative totals and averages are printed at the bottom of the report.

Transaction Analysis
The Transaction Analysis report asks for a Date Range and then prints a summary of the performance of all Operators and teams in your office, including Operator Assignment, Sales Assignment, Operator Detail and Team Detail. While similar to the Operator Commission report, this report includes all transactions, rather than just commissionable transactions.

Client Analysis
The Client Analysis report totals all new Debtors and their payments within a specified Date Range. Displayed are Total Values, Averages, and Number of Accounts and Payments, as well as Liquidation Percentage, Cost Factor and Yield.
This report lists monthly and yearly totals for Business Placed and Collections, and results based on these figures.

Total Listed
This report prints a very brief summary of accounts and clients listed with the agency. The report, in list format, prints Balances and Listed, Paid, Closed and Owing amounts for the Client and Debtor. It then gives Averages on a per client and account basis.
The report pulls this data from the appropriate fields in the Debtor form.

Transaction Summary
The Transaction Summary report prints a summary of all Payments Direct and To Us, Commissions Earned, and Taxes during a selected Date Range. These are printed in a table with Total Balances, Number of Payments and Averages.