Run Credit Report Batch
You are about to prepare accounts for reporting to bureaus.
This process should only be used on NEW accounts that have not been previously reported UNLESS you specifically want to use batch processing to change the CBR status on a volume of accounts (for instance, sending them as " Delete from bureau.")
Do NOT proceed if this is your normal monthly reporting of accounts that are already actively being reported to the credit bureau! Rather, use Tools, Credit Reporting to access the Report to Credit Bureaus area.
When you select START, you will create or update the Metro contact on each one of the selected accounts. The next time you run your credit bureau report, this batch of accounts will be reported along with all other accounts also being reported.
To run your credit bureau report, please select Credit Reporting from the Tools menu to open the Report to Credit Bureaus form. Press F1 for help when the form is displayed.

WARNING: Reporting credit is a legal matter.
You are responsible for ensuring that the information you are sending is accurate and complete. Do not report credit without being ABSOLUTELY SURE of your legal rights and the legal rights of the person or entity you are reporting.
Help
Press this button for help on the Run Credit Report Batch dialog and links to related topics.

Back
Select this to return to the previous form. You can then alter your settings or choose to close the batch processing procedure without running a batch.

Start
Select this to begin processing your batch. According to the settings you have chosen, this will process accounts for credit bureau reporting.

Clear Tags
When you complete your batch process, Collect! may prompt to clear tags if you started your procedure with a tagged list of accounts.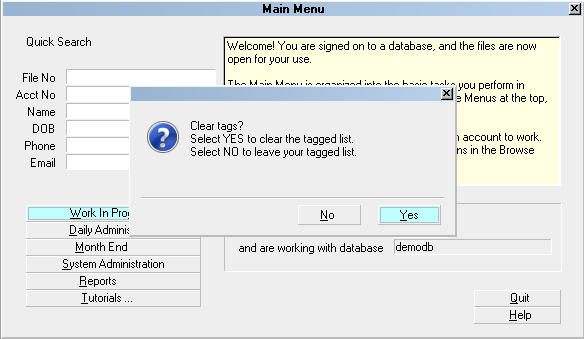 Prompt to Clear Tags after Batch Processing

See Also
- How To Setup Batch Processing For Credit Bureau Reporting
- Batch Processing Topics
- Credit Bureau Reporting topics
- Credit Reporting Functional Description