Automatic Client Update
Collect!'s CVSYNC feature updates your CV11Client installs automatically. You simply set the "Automatic client update" switch in Database Preferences. When you update your Server CV11, any user signing into a CV11Client install will be prompted to synchronize their workstation's CV11Client version with the Server version. Collect! copies all the necessary files to the workstation, easily and automatically updating the user's CV11Client install. If you have several workstations with CV11 Client installs, all workstations will be updated easily and automatically as soon as the users sign in and say "YES" to the prompt.

This feature is available with Collect! Version 11.3 Build 5.1 and newer.
Setting Up Cvsync
Select System from the top menu bar in Collect! and then select Preferences from the drop-down choices. Select the DATABASE PREFERENCES button. Switch ON "Automatic client update (cvsync)" with a check mark.

Database Preferences Form
That is all that you have to do to tell Collect! that you want to update your CV11Client installs whenever you apply an upgrade patch to your Server's CV11 install.

Using Cvsync
After you have set up your Database Preferences to update your CV11Client automatically, Collect! will be able to update your client installs from now on.
1. When you sign on to the CV11Client and Collect! determines that the CV11 Server has been updated, you will be prompted to update your CV11Client install.

Collect! Prompts You to Update CV11Client
2. Say "Yes" to the prompt. Collect! will shut down and begin to download the latest files from your Server.


Collect! Downloads the Latest Files
3. When the download is complete, Collect! displays the sign on screen with the updated version. Notice the new Version number.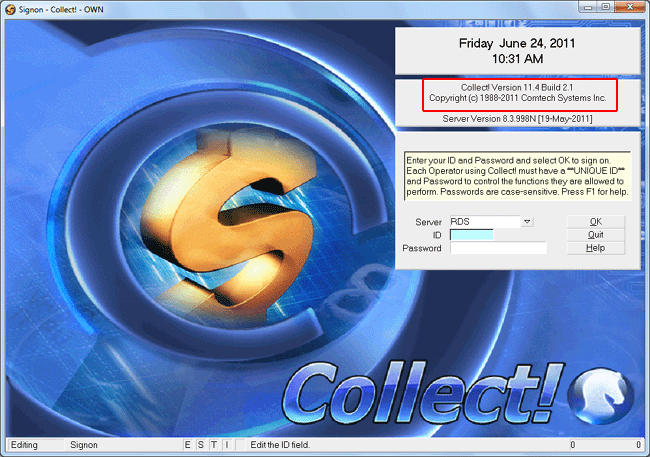 CV11Client is Now Running the Latest Version

Database Engine Revisions
From time to time, the CV11 Server DLL files are updated. If you upgrade to the latest CV11 version and it contains an updated CV11 Server, the CVSync process will be unable to synchronize automatically and will generate an error when trying.
If this happens, you will have to update your CV11Client installs by patching up each workstation that is running the CV11Client. Once the server DLLs are in sync again, the CVSync process will continue to work automatically for any future upgrades.
CV11Server DLL updates are usually applied only once or twice a year.

Summary
Enabling "Automatic client update (cvsync)" in Database Preferences will keep your Server and CV11Client installs synchronized. Whenever you sign into a CV11Client on any workstation, Collect! will trigger the CVSYNC process if your CV11 Server install has a newer version of CV11.
You will get a prompt (indicating both versions) letting you know your CV11Client EXE and the Server CV11 EXE are not the same. When you select "YES" to update, Collect! will close down, the CVSYNC program will start downloading the latest files from your Server. Once the update is complete, Collect! will start back up and you will be running the newer version on your workstation.
Any errors encountered by the CVSYNC process will be displayed on the screen.
If have several workstations with CV11Client installs, CVSYNC will save you time and money, reducing your costs for on-site technical services.
SEE ALSO