Register for the Collect! User's Conference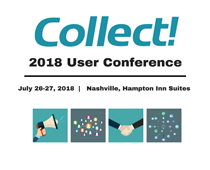 Join us for 2 days of intense Collect! training directly after ACA International. Our venue is directly beside the ACA host hotel.
Dates: Thursday, July 26 & Friday, July 27, 2018
Venue: Hampton Inn Suites, 310-4th Ave S, Nashville, TN
Staffing: Presenters plus additional staff for 'one-on-ones'
Partners: Selected integration partners will be present
Registration Fee: $200 members / $400 non-members per participant
The fee will be charged if we have payment information on file, or invoiced if we do not.
This registration includes access to all sessions, snacks, beverages, 2 lunches and dinner on Thursday.
Host Hotel: Hampton Inn & Suites Click Here for Details
We have arranged a group booking rate of $209 with our host hotel for a standard room with 2 Queens or a King. The Hampton Inn & Suites provides free WIFI and a hot breakfast. To book your room contact Hampton Inn & Suites directly at 1-615-277-5000 or go to Book a Room at the hotel link above. Use the Group Code: "CSU"
Please fill in the form and click the submit button to register for the event.
Please provide your cell phone so we have the opportunity to send you alerts during the event.
Thank You!
Program
DAY 1 - THURSDAY
Early User Track 1-5 yrs
Experienced User Track 5+ yrs
8:00
Coffee, meet & greet in expo area
9:00
Plenary: Welcome, Introduction, Roadmap of C! development
9:30
Plenary: New features of CV12 & Dashboard
10:00
Standard Procedures, WIP List
Pre and Post Judgement
11:00
Payment Plans / BillingTree / Promise Contacts
Contact Plans
12:00
Buffet lunch in hotel dining area, Integration Expo open
1:00
Integration Demonstration Set 1
2:00
Batch Processing / Account Toss
Autodialer / TCN / Predictive Dialer
3:00
Scheduler
Access Rights / Security
4:00
Printing and Editing Basic Letters - printing, editing letters, RTF letters
Advanced Letters - images, includes, variables, if conditions, run plans, RTF letters, lines
6:00
Happy Hour in Expo Area
7:00
Martin's Southern BBQ Dinner
DAY 2 - FRIDAY
Early User Track 1-5 yrs
Experienced User Track 5+ yrs
8:00
Coffee, mingle in expo area
9:00
Plenary: Credit Bureau Reporting
9:30
Setup, Backups, Maintenance Best Practices
10:00
Basic Reporting - loops, variables, if conditions, exporting data
Advanced Reporting - loops, exporting data
11:00
Grouping
Control Files & Using C! for Compliance
12:00
Buffet lunch in hotel dining area, Integration Expo open
1:00
Integration Demonstration Set 2
2:00
Basic Import - csv, keys, default value, cosigner for CBR
Advanced Import - fixed length, keys, default value, record identifiers, formatting SSN, import cosigners for CBR
3:00
WebHost Use
WebHost Customizing
4:00
Plenary Wrap-Up & Close
Current Integration Partners
| | |
| --- | --- |
| | BillingTree is the leading technology focused payment solutions company providing innovative products and services enabling organizations to increase efficiency and decrease costs of processing payments. |
| | TCN combines a deep understanding of the needs of call center users with a highly affordable delivery model, ensuring immediate access to robust call center technology, such as predictive dialer, IVR, call recording, and business analytics required to optimize operations and adhere to TCPA regulations. |
| | PLD Group empowers overworked office managers and administrators by providing efficient and reliable outsourcing of critical documents, including statements, invoices, recall notices, and collection letters, services not normally available to small and medium size organizations. Count on The PLD Group when you are "Ready to Make a Statement." |
| | Focus 1 and their parent company Hatteras, Inc. produce, mail, and electronically delivered unique printed and digital products for the financial and healthcare industries. Please contact us for a demo. |
| | Thrio's comprehensive omnichannel cloud contact center suite powers CleanCall Dialer: your one-stop solution for smart, compliant, & highly productive campaigns. Optional AI-driven virtual conversational bots automate routine/complex collection interactions & negotiations. |
| | Applied Innovation provides solutions for the ARM industry to manage clients, manage compliance, increase payments, and speed up collections with client & consumer portals. Virtual collector, E-signatures, no-fee-to-biller, and more. |
| | Solutions by Text has serviced the industry for over 20 years by providing compliance based text messaging services, billing reminders, pay by text, account notifications and collection alerts. |
| | EFT Network has been a leading provider of Electronic Payment Processing solutions for the Collection industry for 20+ years. These innovative payment solutions help agencies reduce operating expenses while automating payment processing and posting, for faster more efficient - and profitable - collections. Today, EFT Network has over 2,000 agencies processing payments electronically. These unparalleled payment processing solutions - along with EFT Network's technical expertise - ensure customized, flawless integration with Collect!. |
| | Learn.net's Eterna cloud-based software is used by collection agencies to maintain their collectors' compliance with federal and state regulations. Collectors receive one daily test question followed by feedback to reinforce today's topic. |
Grand Prize Draw
Friday 4:15
The Winner Will Choose from the Following:
2 Additional Seats
Any Collect! Module
$1,000 off the next Membership Renewal
Up to 5 hours technician time
Must be present to win.