Training Videos
Learn Collect! at any time with our helpful training videos
Our pre-recorded training videos are an extremely convenient method of training. The videos can be accessed and watched 24 hours a day, 7 days a week. And since they can be paused, rewound, and watched again, it's easy to practice while you learn.
Our Training Video Library, accessible through the Member Center, contains almost 100 videos. Each video can be watched through any standard Web browser.
Below are a few videos that are available to you. To see all of the videos in our Member Center, please log in:
The following videos show Collect! users how the solution works, and how it matches your collections work flow, from entering your agency information to generating reports. Have an idea for a video that you would like to see? Please contact us with your suggestions.
Collect! Basics

These tutorials present clear steps for performing the most basic functions in Collect!. They an excellent place to start if you are a new user, but they are also very useful for existing users who want to learn more about Collect!.


When you first start using Collect!, you will want to put in your Company information so that Collect! can use this when you print reports and letters. This video also shows you how other settings may be set globally at the Company level as well.

13 minutes 7 MB


Steps through entering a Client into Collect!. This video also shows you how to enter several settings at the Client level to make data entry easy and accurate.

27 minutes 14 MB


Steps through entering a Debtor into Collect!. This is where you will spend most of your time in Collect!, so this video introduces you to all the related fields and forms where Account information is stored.

34 minutes 14 MB


Gives you some basic tips for creating simple letters using Collect!'s Report Writer.

12 minutes 5 MB


Introduces the Work In Progress List (WIP List) and shows how to schedule and complete contacts for Debtors using Contacts and Contact Plans. Creating and customizing Contact Plans is also covered.

16 minutes 6 MB


Gives you a basic understanding of the Month End Process.

9 minutes 4 MB
Collect! Techniques


Shows how to create a new report library and populates the library with sample reports from the Collect! website.

8 minutes 4 MB


Shows how to create a new Attachment type and how to change the field labels to match the data format that you need.

11 minutes 4 MB


Shows how to use Time Zones to manage your work queues and how to alert users when it is too early or too late to phone a Debtor.

11 minutes 3 MB


Shows how to use Edit Search Criteria to filter any list in Collect! and Quick Print results for quick ad hoc reports and analyses.

15 minutes 5 MB


Shows how to use Control Files to set rights, colors, and captions based on conditions you define.

10 minutes 9 MB

The videos will play in your browser if you have the latest Flash Player. The first time you play a video, you will be prompted if you need to update your player. This is an ActiveX control and installs on your computer in a matter of seconds.

To return to this page after viewing a video, select the BACK arrow from the browser menu.
For best video/audio playback, we recommend updating to the latest version of Adobe Flash Player which may be found here.
View Videos in Full Screen Mode
You can click the symbol in the lower right hand corner of the video to switch to Full Screen Mode so that the video display fits your screen. Press ESC to exit from Full Screen Mode.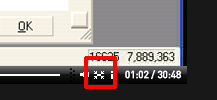 Select the RED square to view more details.