Customize Splash Screen
The Collect! Splash Screen is the first screen you see when you open the Collect! program.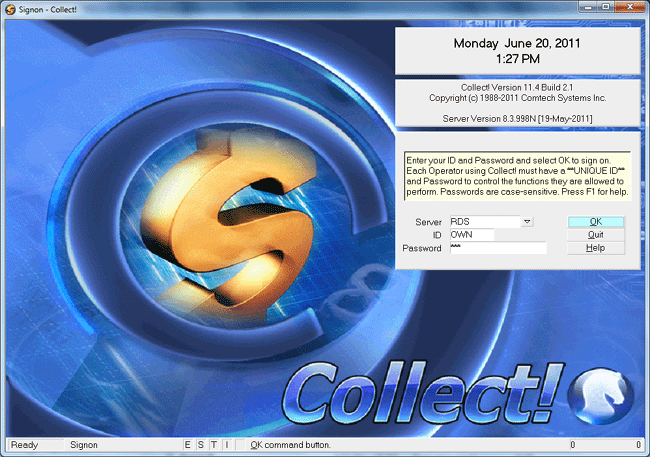 Collect! Splash Screen
Enter a valid User ID and Password to sign into Collect!. New users can simply sign on as OWN with Password own to explore all the features and functions.
After you have entered your ID and Password, select the OK button to log into the CV11 Server. You can then open the database of your choice from the Welcome To Collect! screen.

Any time you select the LOGOUT button from the Welcome To Collect! screen, you will be taken back to the Collect! Splash Screen where you can log in with a different Operator ID or exit the Collect! program.
Customize Splash Screen
You can place your own splash.bmp or splash.png in the CV11\bin folder to override the default Collect! splash screen. The horse logo overlay will not be rendered if you successfully load the splash.bmp or splash.png file. The "Collect!" logo in the bottom right will always be rendered.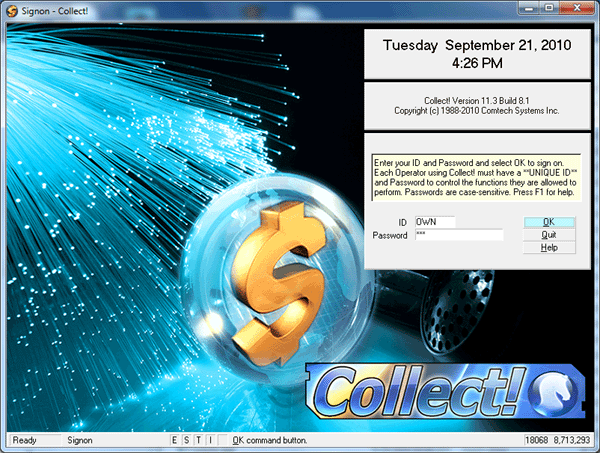 Customized Collect! Splash Screen

If you use a bitmap for your splash screen, it should measure 786 by 568 in pixels to render perfectly.

Select Server
The splash screen displays a server pick list. The default value is 'RDS' and this should not be changed unless you are an Administrator. This option is for maintenance performance and for multiple server situations.

Server Version
The RDM Server Version and Date are displayed in the Collect! splash screen under the Copyrights and also on the Help About screen under the O/S. This will assist in troubleshooting and upgrading when Birdstep RDM patches are applied to our Collect! distribution.

See Also
- How To Start Using Collect!