Access Rights List
Selecting the Access Rights command will display a list of all forms and fields used by Collect! With access rights, you control exactly what areas in Collect! each operator can have access to or how the operator will sees each form and field in Collect!.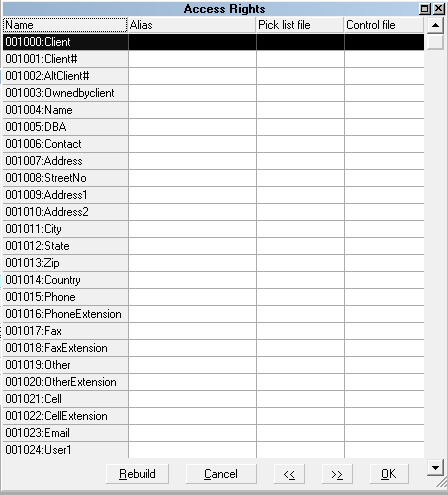 Access Rights List
The column headings in the Access Rights List display information from the Access Rights form. Each column heading is the actual name of the field on the Access Rights form. If you change the field label on the form, the next time you view a record list, you will see that the field label change has applied to the list column heading as well. The default columns listed are Name, Alias, Pick List File and Control File.
By default, the list will display in order by form and field Name column. The active column is the Name column. By immediately typing an access rights Name, Collect! will scroll to the access rights record that is the closest match.
Menu names are followed by the choices in that particular menu. Form names are followed by the fields in that particular form. Each item starts with a unique number that identifies it to Collect!.
You can quickly navigate to a specific form or field access rights record using this list. Selecting any item in the list will display the Access Rights form for the form or field.
When access rights for any field or form have been modified, it is important to rebuild the access rights information. This is also useful if you experience any anomalies with your control of Collect! fields or forms. Please refer to Rebuild Lists for more information.
See Also