Text Messaging
Text Messaging (SMS) is the cutting edge in technology when sending payment reminders or debt collection notices to consumers. Text Messaging is the latest and most inexpensive augmentation to automated voice messaging campaigns, creating both a significant lift in call-backs and dramatic increase in interactive responses for all client communications.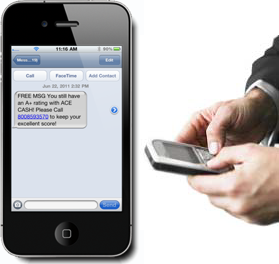 Why Does Text Messaging Work?
Response rates for Direct Mail and Telemarketing are falling year by year. Why does the debtor avoid these forms of communication? Often, the reasons include fear, guilt or intimidation. Consumers being contacted by collection agencies are typically in financial difficulty, and under emotional stress about the general situation, so they may be confused and vulnerable.
So Many Benefits
High Response Rates
95% of all text messages are read
62% are remembered
23% are forwarded
18% of people respond to mobile campaign offers
Conversion rates are up to 20 times higher than email or direct mail
Immediate Results
Clients receive your message in seconds and results are available in real time. Text records are automatically saved and archived for future review.
Low Cost
SMS is a FRACTION of the cost of contemporary delivery systems
Communication Without Complication

Text Messaging allows communication without the complications of emotions or the feeling of being harassed or judged. And because cell phones are transportable, people feel safe in knowing that no one knows where they are at the time of the communication.

Text messaging is an entirely new approach to client communications. Texting is highly individualized. When we send a text message, we expect it to reach a specific person, regardless of where that person is at the moment. People use SMS texting because they're not always in an environment conducive to phone chatter (commuter trains, for instance) or because they want to quickly send a key bit of information ("united 514, arrive 1010pm"). In either case, text messaging allows the consumer to control directly how and when the message interaction occurs.

Regulatory Compliance

Of concern to all debt collectors are the requirements of the Fair Debt Collection Practices Act. Section 808(5) states that debt collectors engage in unfair and unconscionable collection practices when they cause a consumer to incur charges for a communication, THE TRUE PURPOSE OF WHICH IS CONCEALED. In order to avoid a violation of this subsection, debt collectors need to provide meaningful disclosure of their identity as well as the true purpose of the communication when sending a text message to a consumer's cellular phone. Provided that debt collectors disclose their identity as debt collectors and the true purpose of the message, contacting a consumer via the consumer's cellular phone would most likely comply with the provisions set forth in the FDCPA. The risk of an FDCPA violation may be minimized, if not absolved, if the collector obtains the prior express consent of the consumer. The consent may be verbal, written or electronic. Ideally, the consumer's authorization should be in writing. If the collector accepts verbal consent, such authorization should be documented by the collector. According to the FDCPA, a lender can hire a third party to send messages on their behalf. However, the third party may not send collection messages for the lender under its own name unless it has purchased debts from the lender. Lenders and financial institutions may send debt collection notices via text message just as if they were making collection calls. And like all communication, collection messages must meet regulatory requirements. For example, the sender must disclose its company name and intention to collect the money owed. If the lender's name is not disclosed, the debtor has right to collect the cost of the call, including but not limited to the fee(s) for the phone call received.

So Many Uses

Debt Collection
Payment Reminders
Payment Authorization
Delivery Notification
Appointment Reminders
Client Retention
Client Satisfaction
Client Surveys
Client Support
Emergency Notifications

"Within 15 minutes, seven debtors contacted us and a total of 19, or 44%, responded.
The response represents an increase of 200% in reactions to letters and even calls."

SMS Powered by: