Version Check
The Version Check option in the Help menu enables you to compare the version of Collect! that you are running with what is currently available for download. If there is a later version online, you will know right away. You can select Upgrade Software in the Help menu to download the latest.


Running the Most Current Version
This shows you that you are running the latest available version of Collect!. There is no need to upgrade.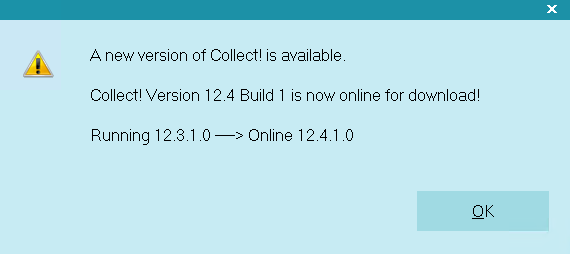 Update Available
This shows you the latest available version currently online and you can upgrade if desired.

When you proceed to the Upgrade area in the Member Center, you can view the latest new features and the latest revisions.
Select the "View Latest New Features" link from the Member Center home page to view new features.
Select "Revision History" from the links on the left of the Collect! download page to view revisions.