Operator Sample - Access Team Operator
This sample shows an Access Team Operator setup. This Operator would only be used only internally with Account Access Control and security functions.
The effect of the settings shown on the Operator form in this sample are explained in further detail below.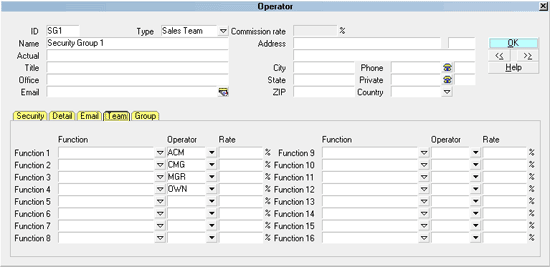 Access Team Operator
The Access Team Operator setup my be used when you need to specify which operators are allows to view an account. By setting up a team, or even nested teams, you can set the security options for many users at once.

Account Access Control is used by Collect! to implement security settings, so please refer to the Help topic Account Access Control for details.
Access Team Members
The members of this Access Operator Team will be the only operators with access to view details of Debtor records that have the Access Operator Team ID entered in one or several of the four fields Collect! reads for determining security.
These are:
Debtor Operator field
Debtor Sales field
Debtor Detail Clerk field
Debtor Detail Access field

Access Team Details
The ID SG1 is the Access Team Operator ID that will be assigned to the accounts that you wish to be viewed only by the members of this team.
The Operator Name Security Group 1 is used for identifying the operator record in lists.
The Operator Type is set to Sales Team which allows you to access the Team tab for member setup.
Function 1 through Function 16 Member fields are used to assign the required operator IDs, or other Access Team Operator IDs that you are using to control access to accounts you want restricted from other operators.
The Function column can be left blank for an Access Team operator.
The Rate column can be left blank for an Access Team operator.
The other fields below are also not necessary for an Access Team operator setup to function correctly. So we will leave them blank, as well.
- Actual Name
- Title
- Phone
- Private Phone
- Email
- Commission Rate


You should never sign into Collect! with the Access Team Operator ID. It is only for setting up security teams.

Security Settings
The Security tab shows additional settings that are used with the Access Team operator setup.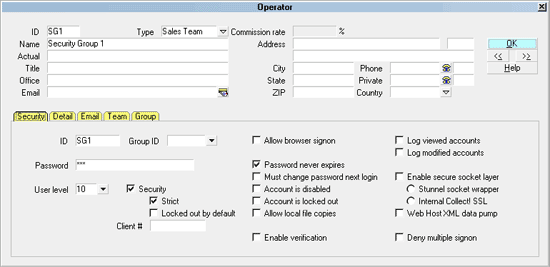 Sample Security Settings for this Team
The SECURITY switch must be set to ON with a check mark for security to function properly.
The STRICT switch may be set to further lock down restricted accounts. This controls whether accounts the team does not have access to are shown with limited data or not at all.
For more information on working with security, please refer to Account Access Control.

See Also
- Account Access Control
- Operator Samples