Transaction Type Sample - Payment Plan Service Charge
The Fee Transaction Type is needed to keep track of fees charged to an account. Any transaction flagged as a Fee type, with an amount either in the To Us or Direct field, will affect the balance of the Fee amount displayed on the Debtor form. An amount in the transaction's Commission field affects only the commission amount shown on the statement you generate for your client.
By default, Collect! ships with a number of Fee type transaction samples for miscellaneous charges to an account. Collect! reserves the codes 300 to 399 for these fees.
The 350 Payment Plan Service Charge transaction type is used when a payment plan is set up on an account. The amount entered as the Service Charge will be posted to the account using this Transaction Type 350.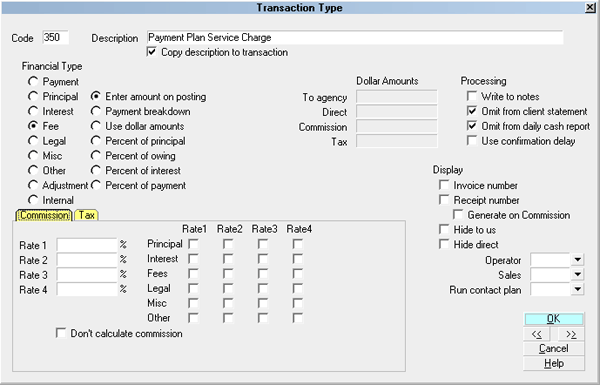 Payment Plan Service Charge
All Fee transactions are totaled together and the result is displayed in the Fees field of the Debtor form.
When a 350 Payment Plan Service Charge transaction is posted to an account, the Description from the Transaction Type form is copied to the transaction being posted.
The 'Enter amount on Posting' radio button is switched ON to enable Collect! to fill in the amount stored in the payment plan settings. This is entered as a negative amount in the transaction's To Us field and increases the debtor's Owing.
In this sample, the reporting check boxes tell Collect! to omit this transaction when creating a statement for your client and also to omit the transaction when generating the Daily Cash Report.
Display is set to leave both the To Us and the Direct fields visible at all times when viewing the transaction or Transactions List.
No contact plans have been set to be run when posting this transaction type.
No commission rate has been set to override the commission rate that may be set on the Debtor form.
All the above settings will be automatically filled in for you when you post a payment plan with a service charge to an account.
See Also
- Transaction Type Basics - Introduction/Accessing
- Payment Plan Topics