Find By Street
The Address Information form displays when you select Browse, Find By, Street. You can fill in criteria such as City, State and ZIP as well as the Street that you want to find.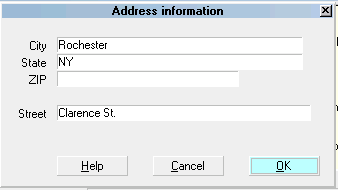 Address Information form
This Find By option searches for Street addresses that match the data you entered.
A list of matching records will be displayed. You can see from the results whether the address match was found on the Debtor or the Cosigner record.


Find By Street results

To speed up the search, it is very helpful if you can enter a City, State or ZIP code. These are keyed fields. If you know the ZIP code, this gives you the quickest results.
If no key is specified in conjunction with the Street criteria and the total debtors and cosigners exceeds 100,000 records, a confirmation dialog will pop up telling the user the total number of records that need to be scanned, the total debtors and total cosigners.

Use the Find By Hot Key, CTRL+F11 to bring up the Find By Street screen.
See Also
- How To Start Using Collect!