How To Create An Age Type Commission Rate Plan
This topic steps through the setup of an Age type Commission Rate Plan and applying the plan to a particular Client. Let's start by examining the Commission Rate Plans that ship with Collect!.
To find the Commission Rate Plan setup area in Collect!, select System from the top menu bar and then select Financial Settings from the drop-down choices. Select Commission Rate Plans from the side menu that displays.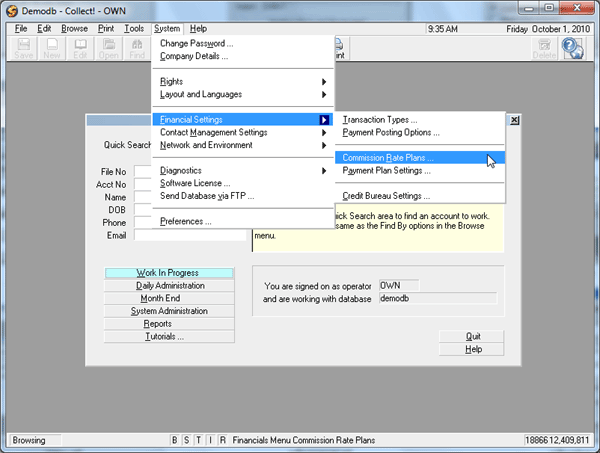 In this form, you can see the three letter identification code for each plan, a brief description of the plan and the type of the plan.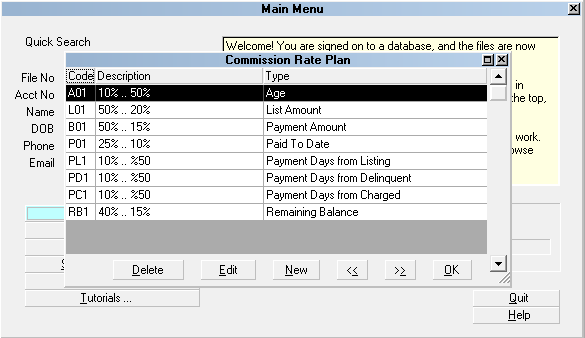 This step by step guide will look at the Age type Commission Rate Plan. Below is the example that ships with Collect!. Here we can see that this AGE type Commission Rate Plan starts on 0 to 60 days at a rate of 10%. The second scale is from 61 to 90 days at 15% commission rate, and so on.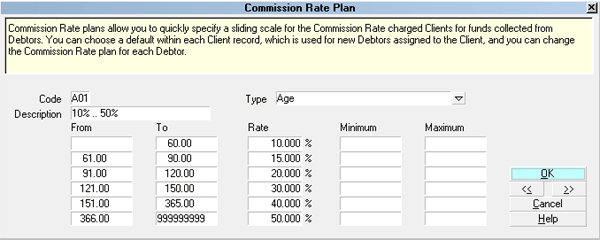 I have just a few changes to make to this Commission Rate Plan example to be able to use it for commission rate structure. I will make a few small changes such as changing the first range to a 30 day max and the rate on 151 days and over to 30%, while accounts older than a year will stay at 50% as in our agreement with the client.

We also have a minimum amount we charge to our clients for collecting on an account, I have entered a minimum amount into the minimum field and if needed I could add a maximum amount as well.
Now that we have set up our commission rate plan, let's see how to apply it to a client. Please open a Client record. You may find an example of a typical Client screen below. Click on the ADVANCED button found near the bottom on the right hand side of the Client screen.
Below you will see an example of the Client Settings area.
Remember that you should have either a commission rate plan or a fixed commission rate. Choose one or the other but not both.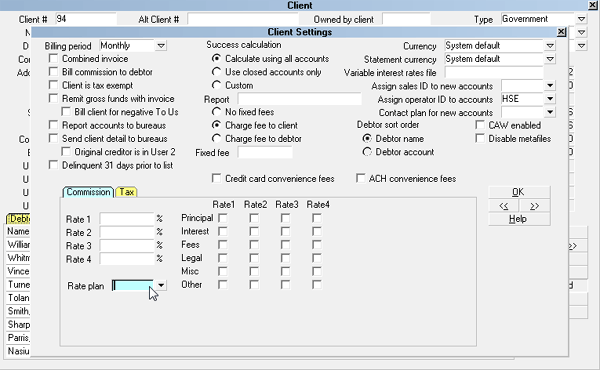 After I select the arrow or press F2 while I am in the field, the list of Commission Rate Plans that are available opens so I can choose one.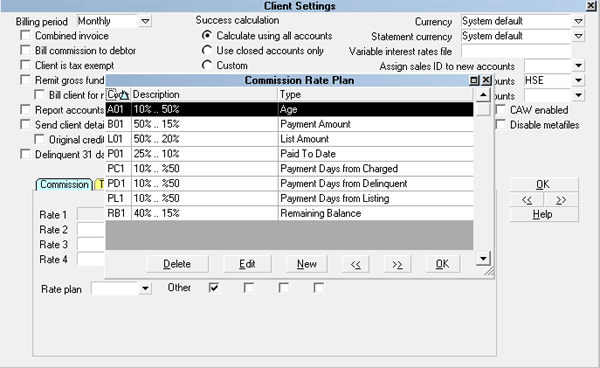 I have chosen the one we edited earlier. You will see that our Commission Rate Plan is now listed in the Rate Plan box on the Client Settings screen.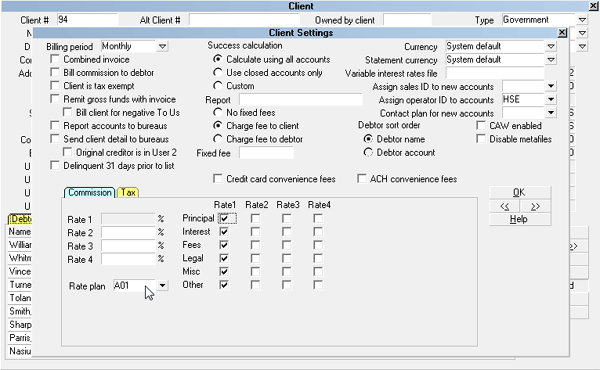 If you try to select an Commission Rate Plan when you already have a fixed rate entered, Collect! deletes the fixed rate and only shows the Commission Rate Plan. This ensures that you do not have both in effect. You can remove the rate plan code from the box if you want to used a fixed rate instead.
Now when you enter new debtors into your system, the rate plan will be in effect for the debtor. Below you can see in the Principal Detail area that the Rate Plan has been carried to the Debtor's financial settings.
Summary
Commission Rate Plans enable you to apply a sliding scale of commission rates to your accounts. There are several types of rate plans that you may use. We have demonstrated the Age type Commission Rate Plan in this topic.

See Also