Take Checks Over The Phone
Imagine having the Debtor's check immediately when you call for a payment due. You can dramatically increase your collections and eliminate waiting for payment by mail. Take Checks Over The Phone helps you reduce risk and boost your bottom line.
Take control of when you get payments! Take advantage of how easy and convenient it can be to receive check payments over the phone, fax or Internet.
How It Works
Your client gives you authorization to process their payment - either verbally or in writing - along with their Bank Account information. This includes Account Name and Account Number, Bank Transit (Routing) Number and Bank Branch Number, as well as the complete Bank Name and Bank Address. See below.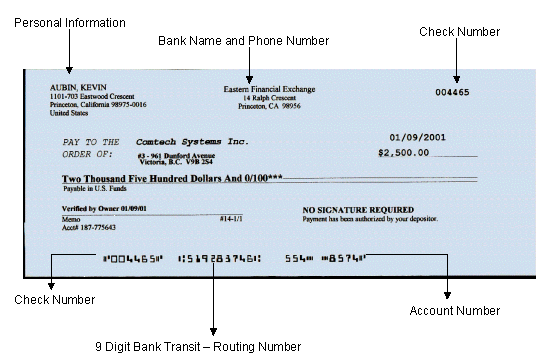 You enter their check information, which only takes a few minutes.
You can then print out the check.
The printed check can then be deposited into your bank account the same way you deposit all your checks.

Benefits
No more lost payments
Deposit checks same day
No more waiting for checks to arrive in the mail
Increase your income
Client signature is not required
No prior bank approval needed
Client authorization is accepted verbally or written
Easy data entry, then print checks on any of the following printers - Laser, bubble or inkjet printer
Legal payment method recognized by the banks as a Paper Draft
The signature area of the check will carry the following.
This draft authorized by your depositor NO SIGNATURE REQUIRED

Frequently Asked Questions
1) Is this legal?
Yes! Bank drafts are 100% legal as long as you have permission from the person who signs on the account. This allows you to take the required information by phone, fax or Internet. Federal banking regulations and the Uniform Commercial Code permit this process. This complies with FTC Regulations 16 CFR 310. You can have your payment in full immediately.
2) Who Signs the check?
No signature is required to deposit these checks. In place of a signature, the following line is printed in the signature area.
This draft authorized by your depositor NO SIGNATURE REQUIRED
3) Do I need special paper?
Yes, you will need special paper - Form #1000 form. This can be purchased at most office supply stores or online at a number of different retailers.

Try http://www.g7ps.com and look for check paper. You can also find these forms at your local office supply store.
4) Do I need magnetic toner?
Most banks have upgraded the check processing applications and no longer require magnetic ink. The checks can be scanned digitally. Therefore, most will not have any problem. If they do, they will process manually and may ask you to get magnetic ink if they are processing a very large quantity of checks for you daily. We suggest that you simply deposit the checks without it.

Using Billing Tree For Check Payments
Collect!'s Billing Tree Module enables you to process credit card and ACH payments electronically through Collect!'s Billing Tree connection. This is a full-featured solution for managing single and recurring payments made by credit card or by bank draft. External payments posted at the Billing Tree web site are also reconciled and posted within Collect!. Recurring scheduled payments are fully managed within Collect!'s promised payment system.
This module is included in every Collect! Version 11.3.4.1 and newer licensed in the United States.

See Also
- How To Print Checks
- How To Take Checks Over The Phone
- Report Sample for predefined Check - Form #1000 report
- Billing Tree Module