Transaction Entries
This is a sub-list on the Client Payment record. In this list is where you would specify the payment amount for each of the individual invoices being paid.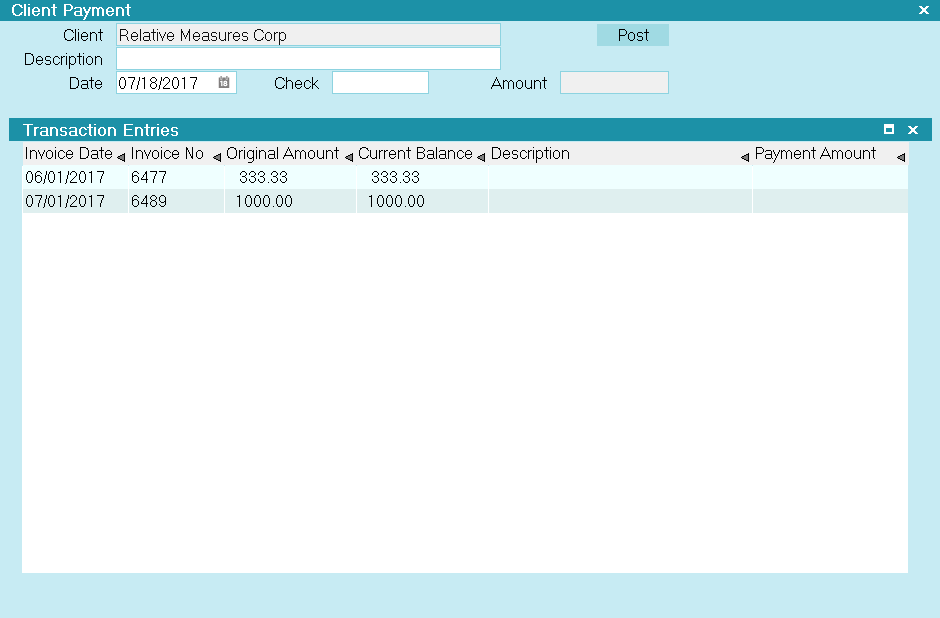 Client Payment Screen
Invoice Date
This is the Date field from the Invoice/Statement record. If you billing period is monthly and the invoice is for December 1 to 31, then the date of January 1 will appear in this column.

Invoice No
This is the counter field from the Invoice/Statement Record.

Original Amount
This is the original invoice amount of the Invoice. This is usually the Subtotal field from the Invoice/Statement record.

Current Balance
This is the current balance of the invoice. It is calculated by taking the Original Amount and subtracting any payment records that have the same INVOICE NO.

Description
This field allows you to enter a description for this payment. If left blank, the system will use the Description from the Client Payment form.

Payment Amount
This field is where you would record the amount of the payment for the invoice.