Assign Account Client
You have chosen to assign accounts to a client. The accounts that you wish to assign have been selected.
If you are unsure of your settings, you may select the BACK button to revisit and/or revise your settings.
When you select the START button, all the accounts you selected will be assigned to the new client.
This batch process may affect many accounts! Please make sure you are ready before you proceed.
Remember that at any time during the operation you may PRESS ANY KEY TO CANCEL.
Select START to reassign the accounts to the client.
When the batch process has completed, please examine your accounts to ensure that you are satisfied with the results.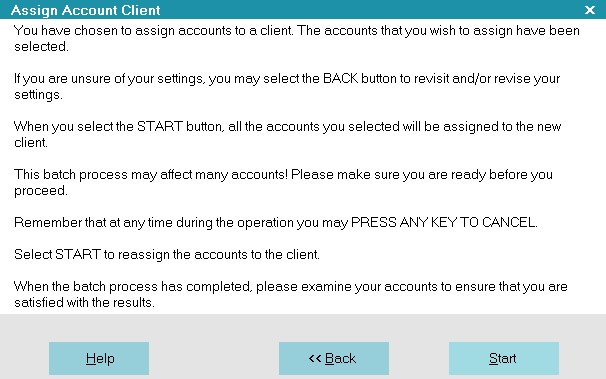 Assign Account Client
Help
Select this button for help on the Assign Account Client form and related topics.

Back
Select this button to return to the previous form where you may adjust your settings.

Start
Select START to begin the account assignment batch using the settings you have chosen.