Deleting An Import Library
The Customize Import/Export submenu enables you to access the Delete Import Library command. You can use this to remove import libraries from your list of registered libraries.

WARNING: Please use this command carefully! It actually deletes the import library from the CV11\import folder. There is no undo to this command!
PLEASE BACK UP YOUR CV11\IMPORT FOLDER BEFORE PROCEEDING!
1. Select File from the top menu bar and then select Import/Export to view the submenu.
2. Select Customize Import/Export and then select Delete Import Library. You will see the list of all libraries registered with CV11.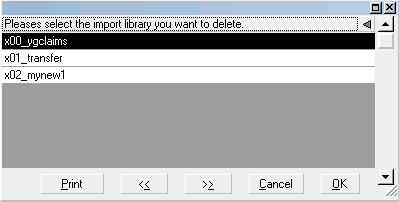 List of Registered Libraries
3. Select the library that you wish to delete. Say YES to the prompt to delete the library. BE CAREFUL, the delete is immediate and there is no UNDO.


Library Deleted Successfully
Collect! removes the library's folder from the CV11\import folder, de-registers it, and removes it from the list of available libraries.

If the user has placed additional files in the import library's folder, they will be left alone and the folder will remain. Otherwise, Collect! deletes the library's folder from your computer.
See Also