TCN Select Function
This screen located by the menu path "Tools\Batch Processing\Process TCN Campaign is the where you direct the system to either create a call list to send to TCN or retrieve campaign call results from TCN. Select the function you would like to perform by clicking the radio button beside your choice.
The two functions are labeled as follows:
Schedule Calls
Download Report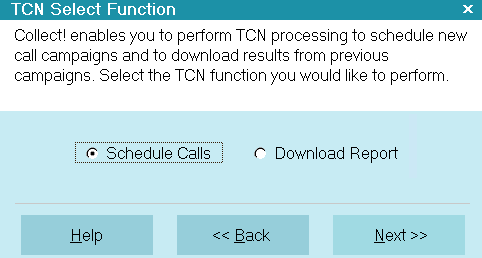 TCN Select Function
Schedule Calls
Select the Schedule Calls option to generate and send a call campaign to TCN to be run.
See the Help topic, Scheduling a Call Campaign, for detailed steps.

Download Report
Select the Download Report option to retrieve your campaign call results report from TCN.
See the Help topic, Processing Results from Call Campaigns, for detailed steps.

Help
Select this button for help with the TCN Select Function screen and links to related topics.

Back
Select this to return to the previous screen.

Next
Select this to proceed with the process.