Scheduler
Schedule tasks to run offline and unattended with Collect!'s Scheduler module. This optional module works like Windows Scheduler in that you can set up specific tasks to launch on preset dates/times/repeat cycles and have the Collect! system look after these processes itself thereafter.
In order to be able to use the Scheduler module, you will have to have purchased a license for use from Comtech. Contact us at sales@collect.org
for pricing.
If you are a multi-user site, this is best set up on your Server. If you are a 1 user site, then this process would require an extra license for the Scheduler instance which would need to be left up and running in addition to your working login of Collect!.
From the station where you will launch the Scheduler Task instance that will remain up and running from this point forward. Signed on either as a minimum level 10 user with the type "Scheduler" created in advance, open a session of Collect!. From the Main Menu, click Tools, then Scheduler. This will will open the Scheduler screen which contains the Tasks window. Click the NEW button to begin scheduling tasks.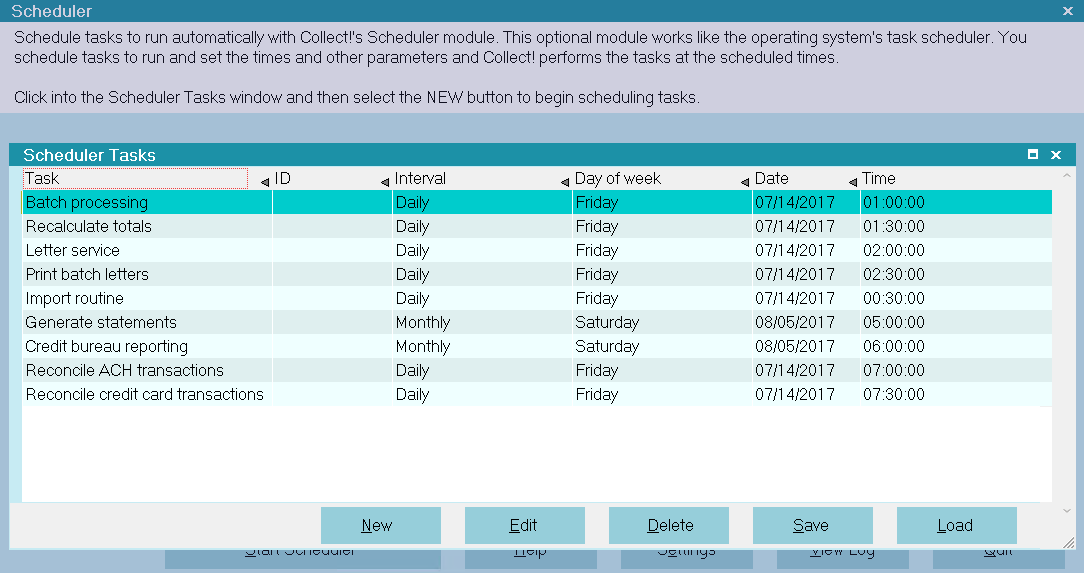 Collect! Task Scheduler
Tasks that may be scheduled include:
Import routine
Print a report
Print batch letters
Generate statements
Credit bureau reporting
Update NCOA from file
Process TCN campaign
Reconcile ACH transactions
Reconcile credit card transactions
Accessing The Scheduler
To access the Scheduler, select Tools from the top menu bar and then select Scheduler. You must be signed in as a user with access level 10 or 99.

To open the Scheduler automatically, you can sign into Collect! as an Operator with Type "Scheduler." This must be set up in the Operator form accessed through the System, Rights, Operators menu option. Please refer to help on Operator for more information.

Scheduler Tasks
This window shows scheduled tasks and their settings. You can edit or delete scheduled tasks or create a new task. Select a column heading to sort the tasks.
Please refer to the Help topic How to Configure Scheduler Tasks for more information.

You can create a series of repeated tasks and save this as a file. All settings and configurations for saved tasks can be instantly retrieved and loaded into the Scheduler as needed.

Start Scheduler
Select the START SCHEDULER button to start the Scheduler. This activates the Scheduler and starts the timer so that Collect! can perform the scheduled tasks in the list.

Make sure you do not close the Collect! instance running in Scheduler mode so that your tasks can run on time.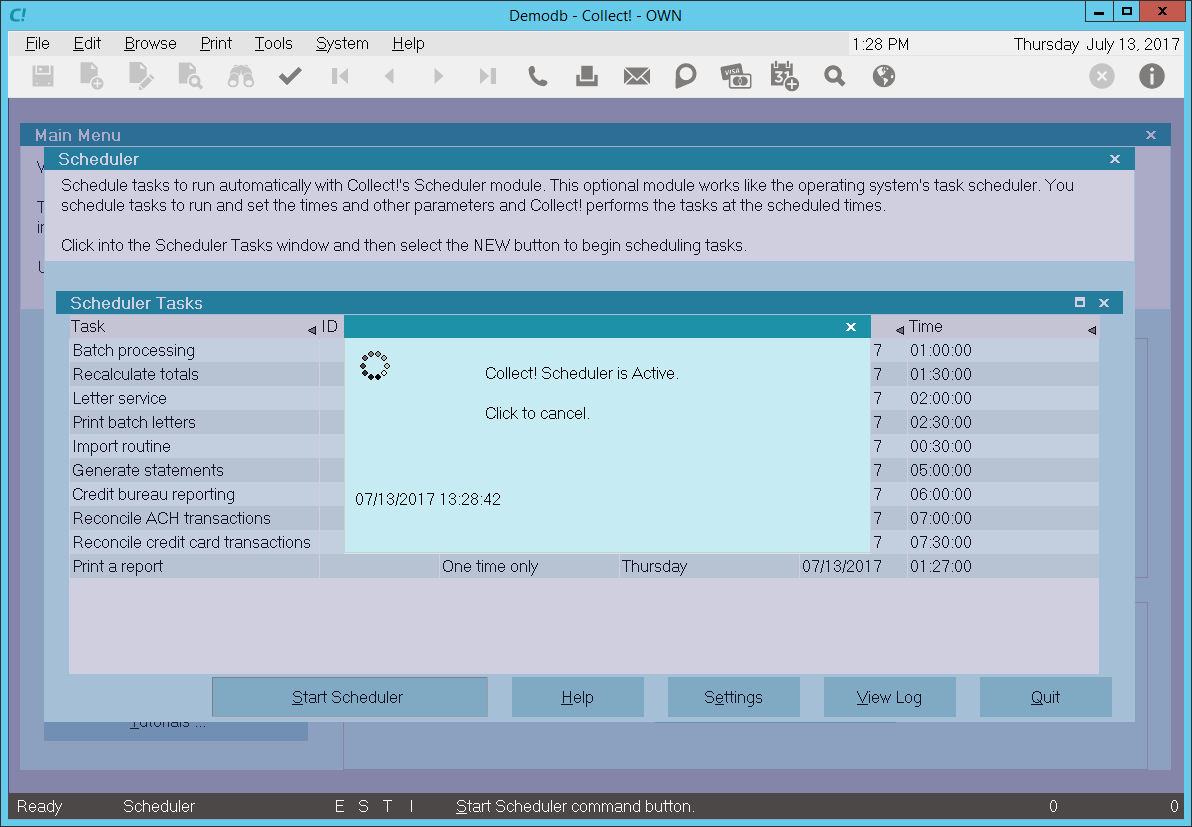 Scheduler Active

You can start the Scheduler automatically when a Scheduler operator signs into Collect!. See the Scheduler Settings for details.

Help
Select this button for Help on the Scheduler and related help topics.

Settings
Select the SETTINGS button to view the Scheduler Settings form where you can set a default task file to load when the Scheduler is opened. You can also switch ON "Start Scheduler Automatically" from this form to start up the Scheduler as soon as the Scheduler operator signs on. Press F1 for help when the Scheduler Settings form is displayed.

View Log
When a task runs, Collect! writes a date/time stamped entry to the Collect\bin\scheduler.log. Select the VIEW LOG button to view the entries in the Scheduler log.


Scheduler Log Entries

Quit
Select the QUIT button to close the Scheduler. This will close Collect! and return you to your Desktop.

If you quit the Scheduler, tasks that you have scheduled will not run! The Scheduler must be running if you want to perform the scheduled tasks.

Automatically Shutting Down
The Scheduler will not shut down automatically as long as it is active. This means it must actually be running a task or have its Scheduler Tasks window displayed waiting for the next task to run.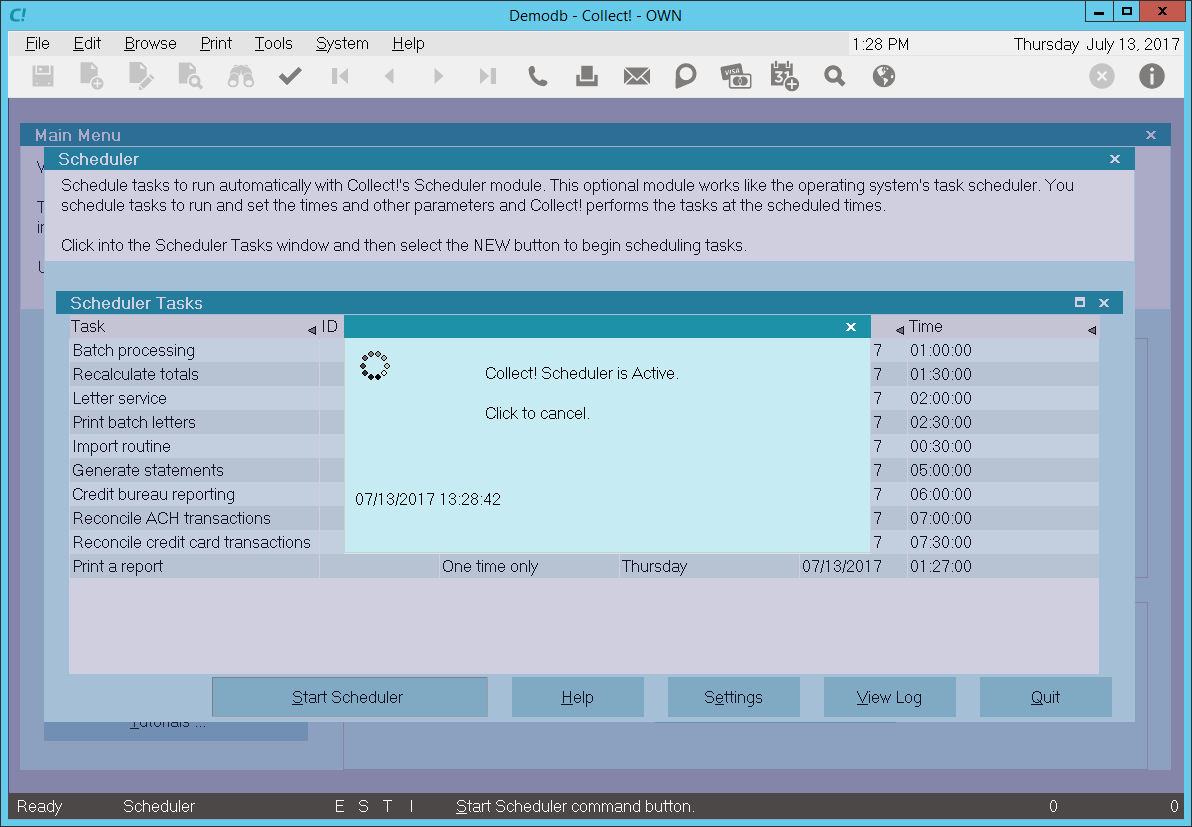 Scheduler Active
If you wish to log out of the Scheduler automatically at a given time, you can use the command line argument /T in the Collect! shortcut you use to start the instance of the Scheduler.
Please refer to Help topic, Command Line Startup Options for details.