How To Read The Metro Contact Description
These tables give a brief explanation, taken from the Metro2 manual, for each of the settings Collect! enables you to choose in Credit Report Details.
The settings you select are "coded" and written into the Description field of the Metro Contact created for the Debtor. These settings are also updated automatically by Collect!, as needed, when the Debtor is worked. For instance, a Payment in Full will update the settings automatically to send this information the next time you run your credit report.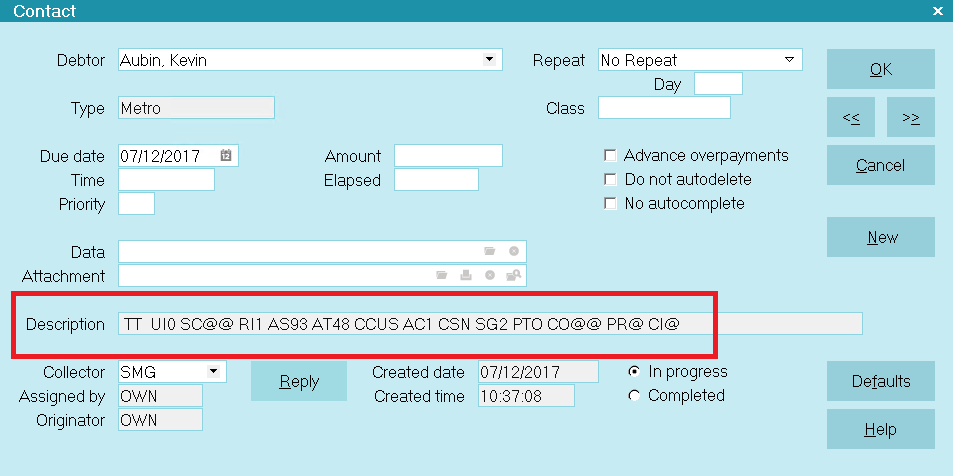 Metro Contact Description Codes

These tables are for your convenience. For in depth explanations, please refer to the Metro2 manual or ask your credit bureau representative
| | | | | |
| --- | --- | --- | --- | --- |
| Metro Description Code | Metro2 Name | Position in File | Values | Descriptions |
| TT | Transaction Type | 231 | | |
| | | | 1 | Newly Opened Account |
| | | | 2 | Name Change |
| | | | 3 | Address Change |
| | | | 5 | SSN Change |
| | | | 6 | Name and Address Change |
| | | | 8 | Name and SSN Change |
| | | | 9 | Address and SSN Change |
| | | | A | Name, Address and/or SSN Change |
| | | | Blank | No change |
| | | | | |
| --- | --- | --- | --- | --- |
| Metro Description Code | Metro2 Name | Position in File | Values | Descriptions |
| UI | Update Indicator | 20 | | |
| | | | 0 | Normal Update |
| | | | 1 | Correction |
| | | | | |
| --- | --- | --- | --- | --- |
| Metro Description Code | Metro2 Name | Position in File | Values | Descriptions |
| SC | Special Comment | 151-152 | | |
| | | | @ | None Specified |
| | | | - | Removes Any Previously Reported Comment Code |
| | | | B | Payments Managed by Credit Counseling Service |
| | | | C | Paid by Co-Maker |
| | | | M | Account Closed at Credit Grantor's Request |
| | | | O | Account Transferred to Another Lender |
| | | | S | Special Handling |
| | | | V | Adjustment Pending |
| | | | AB | Debt Being Paid Through Insurance |
| | | | AC | Paying Under a Partial Payment Agreement |
| | | | AH | Purchased by Another Lender |
| | | | AI | Recalled to Active Military Duty |
| | | | AJ | Payroll Deduction |
| | | | AM | Account Payment Assured by Wage Garnishment |
| | | | AN | Account Acquired by RTC/FDIC |
| | | | AP | Credit Line Suspended |
| | | | AR | Contingent Liability |
| | | | AS | Account Closed Due to Refinance |
| | | | AT | Account Closed Due to Transfer |
| | | | AU | Account Paid in Full for Less than the Full Balance |
| | | | AV | First Payment Never Received |
| | | | AW | Affected by Natural Disaster |
| | | | BA | Transferred to Recovery |
| | | | BL | Credit Card Lost or Stolen |
| | | | BP | Paid through Insurance |
| | | | BZ | Judgment Granted |
| | | | CS | For Use by Child Support Agencies Only |
| | | | | |
| --- | --- | --- | --- | --- |
| Metro Description Code | Metro2 Name | Position in File | Values | Descriptions |
| RI | Reporting Industry | | | |
| | | | @ | None Specified |
| | | | 0 | Check Credit |
| | | | 1 | Collection Agency |
| | | | 2 | Credit Card |
| | | | 3 | Credit Union |
| | | | 4 | Debt Counselor |
| | | | 5 | Educational |
| | | | 6 | Family Support |
| | | | 7 | Government Agency |
| | | | 8 | Installment Loan |
| | | | 9 | Loan Finance |
| | | | A | Mortgage Loan |
| | | | B | Retail |
| | | | C | Sales Finance |
| | | | D | Savings And Loans |
| | | | E | Service And Professionals |
| | | | | |
| --- | --- | --- | --- | --- |
| Metro Description Code | Metro2 Name | Position in File | Values | Descriptions |
| AS | Account Status | 124-125 | | |
| | | | 5 | Account transferred to another office |
| | | | 11 | Current account |
| | | | 13 | Paid in full |
| | | | 61 | Paid in full; voluntary surrender |
| | | | 62 | Paid in full; collection account or claim |
| | | | 63 | Paid in full; was a repossession |
| | | | 64 | Paid in full; was a charge off |
| | | | 65 | Paid in full; a foreclosure was started |
| | | | 71 | 30 days |
| | | | 78 | 60 days |
| | | | 80 | 90 days |
| | | | 82 | 120 days |
| | | | 83 | 150 days |
| | | | 84 | 180 days |
| | | | 88 | Filed with govt. for insured portion on balance on defaulted loan |
| | | | 89 | Deed received in lieu of foreclosure on a defaulted mortgage |
| | | | 93 | Seriously past due and/or assigned to collections |
| | | | 94 | Foreclosure/ credit grantor sold collateral to settle mortgage |
| | | | 95 | Voluntary surrender |
| | | | 96 | Merchandise taken back by grantor; may be a balance due |
| | | | 97 | Unpaid balance reported as a loss by credit grantor |
| | | | DA | Delete entire account from credit bureau |
| | | | DF | Delete entire account due to confirmed fraud (fraud investigation completed) |
| | | | | |
| --- | --- | --- | --- | --- |
| Metro Description Code | Metro2 Name | Position in File | Values | Descriptions |
| AT | Account Type | 74-75 | | |
| | | | Choices change depending on Industry | |
| | | | Please refer to Metro2 Manual for details | |
| | | | | |
| --- | --- | --- | --- | --- |
| Metro Description Code | Metro2 Name | Position in File | Values | Descriptions |
| CC | Country Code | 328-329 | | |
| | | | Standard two-character abbreviation | |
| | | | | |
| --- | --- | --- | --- | --- |
| Metro Description Code | Metro2 Name | Position in File | Values | Descriptions |
| AC | Association Code | 325 | | |
| | | | @ | None Specified |
| | | | 1 | Individual |
| | | | 2 | Joint Contractual Liability |
| | | | 7 | Maker |
| | | | T | Association with account is terminated |
| | | | W | Business/Commercial Non-Consumer account |
| | | | X | Consumer is deceased |
| | | | Z | Delete Borrower (Inaccurately reported consumers only) |
| | | | | |
| --- | --- | --- | --- | --- |
| Metro Description Code | Metro2 Name | Position in File | Values | Descriptions |
| CS | Cosigner | | Y | Report Cosigner YES |
| | | | N | Report Cosigner NO |
| | | | | |
| --- | --- | --- | --- | --- |
| Metro Description Code | Metro2 Name | Position in File | Values | Descriptions |
| SG | Cosigner Segment | | 2 | Not used |
| | | | | |
| --- | --- | --- | --- | --- |
| Metro Description Code | Metro2 Name | Position in File | Values | Descriptions |
| PT | Portfolio Type | 73 | | |
| | | | C | Line of credit |
| | | | I | Installment |
| | | | M | Mortgage |
| | | | O | Open Account |
| | | | R | Revolving |
| | | | | |
| --- | --- | --- | --- | --- |
| Metro Description Code | Metro2 Name | Position in File | Values | Descriptions |
| CO | Compliance Code | 153-154 | | |
| | | | @ | None Specified |
| | | | XA | Account closed at consumer's request |
| | | | XB | Account information disputed by consumer |
| | | | XC | Completed investigation of FCRA |
| | | | XD | Closed at consumer's request & in dispute under FCRA |
| | | | XE | Closed at cons request, dispute completed, consumer disagrees. |
| | | | XF | Account in dispute under Fair Credit Billing Act |
| | | | XG | FCBA Dispute resolved - consumer disagrees |
| | | | XH | Previously in dispute - now resolved, reported by credit grantor |
| | | | XR | Removes the most recently reported Compliance Condition Code. |
| | | | | |
| --- | --- | --- | --- | --- |
| Metro Description Code | Metro2 Name | Position in File | Values | Descriptions |
| PR | Payment Rating | 126 | | |
| | | | 0 | Current account (0 -29 days past due) |
| | | | 1 | 30-59 days past due |
| | | | 2 | 60-89 days past due |
| | | | 3 | 90-119 days past due |
| | | | 4 | 120-149 days past due |
| | | | 5 | 150-179 days past due |
| | | | 6 | 180 or more days past due |
| | | | G | Collection |
| | | | L | Charge-off |
| | | | | |
| --- | --- | --- | --- | --- |
| Metro Description Code | Metro2 Name | Position in File | Values | Descriptions |
| CI | Information Indicator | 326-327 | | |
| | | | @ | None Specified |
| | | | A | Petition for Ch. 7 Bankruptcy |
| | | | B | Petition for Ch. 11 Bankruptcy |
| | | | C | Petition for Ch. 12 Bankruptcy |
| | | | D | Petition for Ch. 13 Bankruptcy |
| | | | E | Discharged Through Bankruptcy CH. 7 |
| | | | F | Discharged Through Bankruptcy CH. 11 |
| | | | G | Discharged Through Bankruptcy CH. 12 |
| | | | H | Discharged Through Bankruptcy CH. 13 |
| | | | I | Ch. 7 Bankruptcy Dismissed |
| | | | J | Ch. 11 Bankruptcy Dismissed |
| | | | K | Ch. 12 Bankruptcy Dismissed |
| | | | L | Ch. 13 Bankruptcy Dismissed |
| | | | M | Ch. 7 Bankruptcy Withdrawn |
| | | | N | Ch. 11 Bankruptcy Withdrawn |
| | | | O | Ch. 12 Bankruptcy Withdrawn |
| | | | P | Ch. 13 Bankruptcy Withdrawn |
| | | | Q | Remove previously reported indicator |
| | | | R | Reaffirmation of debt |
| | | | S | Remove previous reaffirmation of debt |
| | | | T | Credit grantor cannot locate consumer |
| | | | U | Consumer now located |
| | | | | |
| --- | --- | --- | --- | --- |
| Metro Description Code | Metro2 Name | Position in File | Values | Descriptions |
| FN | File Number | 43-72 | Debtor File Number or Client Acct. # | |