ACH Payment Tasks
Choices in the ACH Payment Tasks window enable you to set up single or payments.
Before you use the choices in this menu, ensure that you have filled out the ACH Payments Setup window and that you have enabled ACH Convenience Fees in your individual Client Advanced Settings screens, if you are charging a convenience fee. Additionally, you will need to define a fixed fee amount that is to be charged in your Transaction Type setup menu. The module will not allow a percentage fee type to be utilized.
To access the ACH Payment Tasks window, select the ACH button in the lower right corner on the main Debtor screen.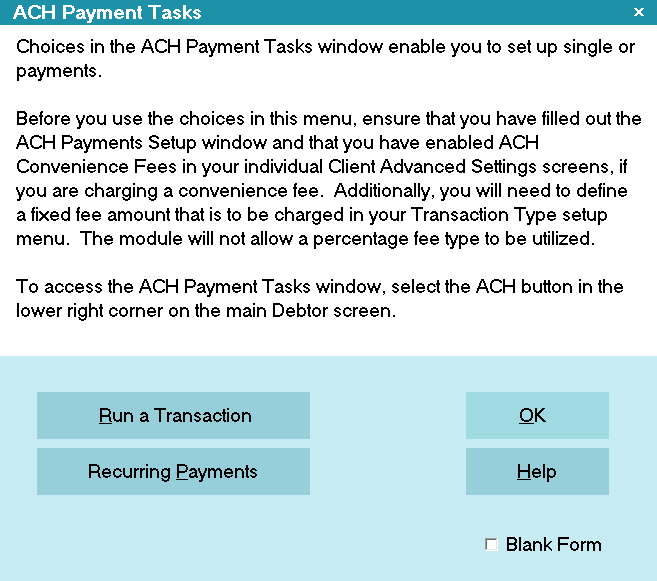 ACH Payment Tasks
Run A Transaction
Select this option to post an individual ACH transaction. The Single ACH Transaction screen will be displayed. Some of the fields will be auto-filled for you on the screen. You can enter a new address, enter all the banking information, elect to charge a convenience fee and save the information you have entered. The ACH transaction will be posted in Collect! as soon as you Submit it and it is uploaded to Billing Tree as soon a the due date has arrived and your company has sent your batch Reconcile ACH History file.

Recurring Payments
Select this option to post a recurring payment schedule. As soon as the Recurring ACH Payments window opens, the module is designed to cross-check to see if there is already a recurring payment schedule set up for this account. If one exists, then the banking, financial and scheduling details will be populated for you.
When you set up recurring ACH payments, the system posts all the transactions and notices for the schedule. Payments are not submitted to Billing Tree until you run Reconcile ACH History on the day the payment is due.

Blank Form
Switch this ON with a check mark to NOT prefill any of the Debtor demographic information on the payment forms.

Help
Click the HELP button to be auto-navigated to our webpage, Help Documents, for more info on ACH Payments and related topics.

OK
Select the OK button to close this window.