Group Members
This list displays the individual members of a group. All group members are numbered from 1 to 255. You can view details for each member by navigating to the account using the navigation arrows next to the GROUP button.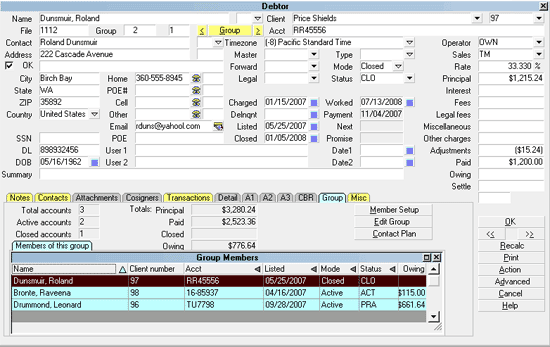 Group Members

This list is Read Only. Select the EDIT GROUP button to view a list of all the accounts in this group. You can select any one of the items to quickly go to that account. You can also use the arrows next to the GROUP button on the Debtor form.
To maximize the list, select the small Maximize icon (square) in the top right corner of the list's title bar.

If your Group Member IDs are no longer sequential due to removing members from the group, you can run the Tools, Utilities, Group Member Renumbering utility to restore sequential numbering to each group.
Group Members are displayed within the Matching Accounts window. The Matching Accounts form shows group totals and enables you to edit group members and setup.
Member
This is the member number assigned to this member of the group.

Client
This is the client that this account belongs to.

Name
This is the name of the debtor whose account is listed here.

Contact
This is the contact for the debtor as entered on the Debtor form.

Active
This is the Mode of this account as entered on the Debtor form.

Status
This is the Debtor's Status Code as entered on the Debtor form.

Listed
This is the Listed Date for the account.

Owing
This is the amount of the Debtor's Owing as shown on the Debtor form.

See Also
- Group Member Setup
- Account Matching Setup
- How To Setup Account Matching